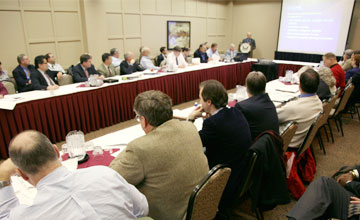 Public Meeting Schedule: Meeting Details
[
New Search
]
---
Purpose

This meeting is to discuss topics of interest related to the administration of the NRC's Operator Licensing Program, including proposed revisions to the Generic Fundamentals Examination and Written Examination, Operating Test grading, revision of NUREG-1122 and 1123, "PWR and BWR Knowledge and Abilities Catalogs," revision of NUREG-1021, "Operator Licensing Examination Standards for Power Reactors," revision of Regulatory Guide 1.8, "Qualification and Training of Personnel for Nuclear Power Plants," and Operator Requalification inspection program changes.

Meeting Feedback

Meeting Dates and Times

02/13/19
2:00PM - 4:30PM



Meeting Location

NRC Three White Flint North
11601 Landsdown Street
3WFN-1C05
North Bethesda MD


Contact

Brian Tindell
301-415-2026

Theresa Buchanan
301-415-2789



Participation Level

Category 2

NRC Participants

Christian Cowdrey, Office of Nuclear Reactor Regulation
Maurin Scheetz, Office of Nuclear Reactor Regulation


External Participants

Kostas Dovas, Nuclear Energy Institute (NEI)
TBD, Entergy Operations Inc
TBD, NextEra Energy, Inc.
Timothy Riti, Nuclear Energy Institute (NEI)


Docket Numbers - Facility Names

Related Documents

ML19032A105 - 02/13/2019 Slides for Public Meeting with Industry Representatives Regarding Operator Licensing.

ML19035A107 - 02/13/2019 Public Meeting with Industry Operator Licensing Representatives



Comments

Teleconference hosted by NRC Headquarters, Rockville, MD. Please contact Brian Tindell at 301-415-2026 or brian.tindell@nrc.gov to request the teleconference information or to request in-person attendance. Interested members of the public are encouraged to submit comments prior to the meeting (to brian.tindell@nrc.gov).