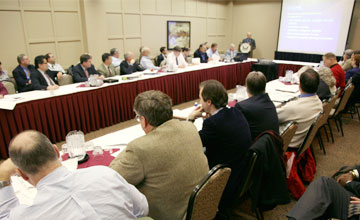 Public Meeting Schedule: Meeting Details
[
New Search
]
---
Purpose

The Office of Nuclear Security and Incident Response, Division of Security Operations (NSIR/DSO) and Division of Physical and Cyber Security Policy (NSIR/DPCP) staffs are requesting insights from stakeholders specifically about providing credit for operator actions, FLEX, and local, state, and federal law enforcement.

Meeting Feedback

Meeting Dates and Times

12/17/18
10:00AM - 4:00PM



Meeting Location

NRC One White Flint North
11555 Rockville Pike
Commission Hearing Room
Rockville MD


Webinar

Webinar Link:https://attendee.gotowebinar.com/register/1006980423164795139
Webinar Meeting Number:982-754-651
Webinar Password:n/a


Contact

Doris Lewis
301-287-3794

Todd Keene
301-287-0790



Participation Level

Category 2

NRC Participants

External Participants

Docket Numbers - Facility Names

Related Documents

ML18348A616 - 12/17/2018 Notice of Meeting to Discuss Staffs Follow-up Actions in Response to Staff Requirements Memorandum (SRM)-SECY-17-0100, "Security Baseline Inspection Program Assessment Results and Recommendations for Program Efficiencies."

ML18347B458 - December 17, 1018 Public Meeting Presentation Update on SRM SECY 17-0100.

ML18348A957 - Supporting Material Public Meeting Dec 17 2018 - SECY-17-0100 Option 3 FOF SDP conceptual models.docx

ML18348A982 - Questions for Dec 17, 2018 Public Meeting.

ML18348B146 - 12/17/2018 Public Meeting with NRC on OpAc - SBT (Final) - NRC Copy.



Teleconference

Bridge Number: 8886771821
Passcode: 2830667

Comments

The meeting announcement will be updated to include the meeting materials.