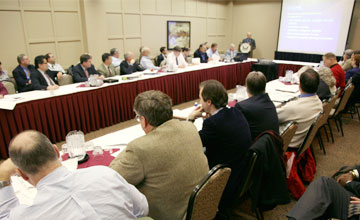 Public Meeting Schedule: Meeting Details
[
New Search
]
---
Purpose

* Meeting Canceled *

To discuss the scope of a rulemaking approved by the Commission in the SRM for SECY-15-0002, "Proposed Updates of Licensing Policies, Rules and Guidance for Future New Reactor Applications" (ML13277A420). The staff would like to engage with the public to solicit ideas that they believe the NRC should consider for this rulemaking.

Meeting Feedback

Meeting Dates and Times

12/18/18
8:30AM - 3:30PM



Meeting Location

NRC One White Flint North
11555 Rockville Pike
Commission Hearing Room
Rockville MD


Webinar

Webinar Link:https://attendee.gotowebinar.com/register/1757324540556333826
Webinar Meeting Number:NA
Webinar Password:NA


Contact

James O'Driscoll
301-415-1325



Participation Level

Category 3

NRC Participants

NRC Staff


External Participants

Public


Docket Numbers - Facility Names

Related Documents

ML18319A042 - 12/18/2018 Notice of Category 3 Public Meeting to Discuss the Proposed Rulemaking to Align the Regulations in Parts 50 and 52 to Address Updates to the Licensing Processes and Lessons Learned for Future New Reactor Applications



Teleconference

Bridge Number: 8003977079
Passcode: 5107274

Comments

Specifically, the staff would welcome discussion on the following questions during the meeting: •What elements of the Part 50 licensing process should be aligned in order to provide equivalent outcomes to licensing reviews conducted under Part 52? What elements of the Part 50 licensing process should not be aligned and why? •What elements of the Part 52 licensing process should be changed in order to address difficulties encountered during previous licensing reviews that would result in more effective and efficient reviews for future applications? •What transformational changes can be implemented in the Part 52 licensing process, which would result in reducing unnecessary burden on applicants, licensees, and NRC staff while maintaining NRC's safety mission?