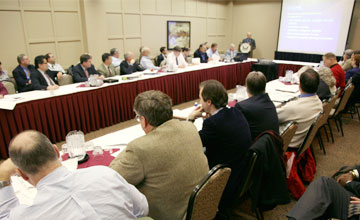 Public Meeting Schedule: Meeting Details
[
New Search
]
---
Purpose

To solicit comments from the public and stakeholders on the NRC's evaluation of the training and experience (T&E) requirements for a physician to become an authorized user for medical uses under Subpart E, "Unsealed Byproduct Material—Written Directive Required," of Title 10 of the Code of Federal Regulations (10 CFR) Part 35, "Medical Use of Byproduct Material." Notice soliciting comments was published in the Federal Register on October 29, 2018 (83 FR 54380).

Meeting Feedback

Meeting Dates and Times

01/10/19
1:00PM - 4:00PM



Meeting Location

NRC Three White Flint North
11601 Landsdown Street
Conference Rooms 1C3 and 1C5
Rockville MD


Webinar

Webinar Link:https://attendee.gotowebinar.com/register/6300014005056035586
Webinar Meeting Number:643-600-803
Webinar Password:N/A


Contact

Sarah Lopas
301-415-6360



Participation Level

Category 3

NRC Participants

Office of Nuclear Material Safety and Safeguards


External Participants

Docket Numbers - Facility Names

Related Documents

ML19002A616 - January 10, 2019, PowerPoint Slides for Public Meeting on T&E for Radiopharmaceuticals.

ML19004A129 - 01/10/2019 Public Meeting to Accept Comments on the NRC's Evaluation of Training and Experience Requirements for Different Categories of Radiopharmaceuticals (83 FR 54380)

ML18135A277 - SECY-18-0084: Staff Evaluation of Training and Experience Requirements Administering Different Categories of Radiopharmaceuticals in Response to SRM-M170817

ML18302A095 - Federal Register Notice 83 FR 54380 Training and Experience Requirements for Different Categories of Radiopharmaceuticals.



Teleconference

Bridge Number: 8884525182
Passcode: 7543424

Comments

For in-person attendees, please arrive at the NRC's Three White Flint Building by 12:45 p.m. to allow enough time to go through security. To facilitate this process, please contact Sarah Lopas at Sarah.Lopas@nrc.gov to register ahead of time. Ms. Lopas will ensure pre-registered in-person meeting attendees are entered into the NRC's visitor access registry system ahead of the meeting. Federal Register notice (83 FR 54380) can be accessed at https://www.gpo.gov/fdsys/pkg/FR-2018-10-29/pdf/2018-23521.pdf and also under "Related Documents," above. Additional meetings on this topic will be held on November 14, 2018 (webinar-only); December 11, 2018 (in-person meeting at NRC Headquarters and webinar); and January 22, 2019 (webinar-only).