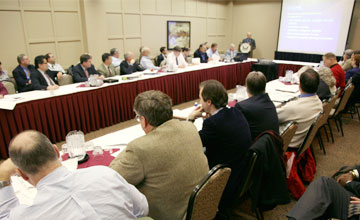 Public Meeting Schedule: Meeting Details
[
New Search
]
---
Purpose

The NRC is holding a public meeting to discuss topics within the NRC's Low-Level Waste program, including the Very Low-Level Radioactive Waste (VLLW) Scoping Study and concerns associated with disposal of Greater Than Class C and Transuranic waste.

Meeting Feedback

Meeting Dates and Times

03/23/18
9:00AM - 1:00PM



Meeting Location

Phoenix Convention Center
100 N 3rd Street
211A
Phoenix AZ


Webinar

Webinar Link:https://attendee.gotowebinar.com/register/949845394553724163
Webinar Meeting Number:877-521-2306
Webinar Password:3313173


Contact

Kellee Jamerson
301-415-7408

Sarah Achten
301-415-6009



Participation Level

Category 2

NRC Participants

Office of Nuclear Material Safety and Safeguards


External Participants

Docket Numbers - Facility Names

Related Documents

ML18088B087 - Official Transcript of Low-Level Radioactive Waste Program Public Meeting Friday, March 23, 2018, Phoenix, Arizona

ML18059A921 - 03/23/2018 U.S. Nuclear Regulatory Commission Low-Level Radioactive Waste Program Public Meeting

ML18088B012 - NRC Presentations at Waste Management Symposia 2018



Teleconference

Bridge Number: 8775212306
Passcode: 3313173

Comments

Interested members of the public can participate in this meeting via Webinar and/or teleconference. This meeting will be transcribed and will have a facilitated bridge line.