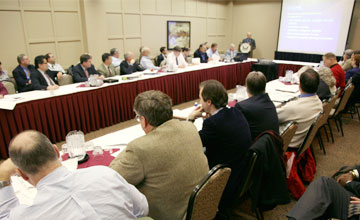 Public Meeting Schedule: Meeting Details
[
New Search
]
---
Purpose

The U.S. Nuclear Regulatory Commission (NRC) will hold an open house to discuss the NRC's assessment of safety performance at the Oconee Nuclear Station Units 1, 2, and 3 for 2017.

Meeting Feedback

Meeting Dates and Times

03/20/18
6:00PM - 7:00PM



Meeting Location

World of Energy
7812 Rochester Hwy
Seneca SC


Contact

Frank Ehrhardt
404-997-4611



Participation Level

Category 3

NRC Participants

Eddy Crowe, Region II
Natasha Childs, Region II
Jason Parent, Region II
Frank Ehrhardt, Region II


External Participants

Duke Energy


Docket Numbers - Facility Names

05000269 - Oconee 1
05000270 - Oconee 2
05000287 - Oconee 3


Related Documents

ML18057B090 - 03/20/2018 Oconee Nuclear Station Units 1, 2, and 3 Annual Assessment Meeting



Comments

The public is invited to participate in this meeting by providing comments and asking questions throughout the meeting. The agenda is an open house poster session where members of the public are welcome to attend and ask questions.