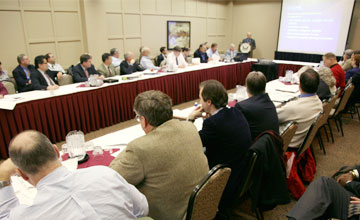 Public Meeting Schedule: Meeting Details
[
New Search
]
---
Purpose

The purpose of this meeting, between the NRC and Xcel Energy, is to discuss the decommissioning funding report submitted March 28, 2017 (ADAMS Accession No. ML17087A246).

Meeting Feedback

Meeting Dates and Times

12/19/17
9:00AM - 9:30AM



Meeting Location

Teleconference


Contact

Robert Kuntz
301-415-3733

Mahesh Chawla
301-415-8371



Participation Level

Category 1

NRC Participants

Office of Nuclear Reactor Regulation


External Participants

Xcel Energy


Docket Numbers - Facility Names

05000263 - Monticello
05000282 - Prairie Island 1
05000306 - Prairie Island 2


Related Documents

ML17339A418 - 12/19/2017 Meeting with Xcel Energy Regarding the Decommissioning Funding Status Report for Monticello Nuclear Generating Plant and Prairie Island Nuclear Generating Plant, Units 1 and 2.



Comments

For the teleconference bridge number, please contact one of the NRC contacts listed above.