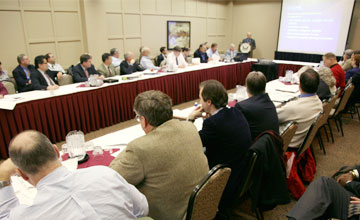 Public Meeting Schedule: Meeting Details
[
New Search
]
---
Purpose

The U.S. Nuclear Regulatory Commission (NRC) staff and Korea Hydro and Nuclear Power Co., Ltd. (KHNP), will conduct a public meeting to discuss non-proprietary and proprietary topics of the Advanced Power Reactor 1400 design related to probabilistic risk assessment (PRA), severe accident (SA) evaluation and reliability assurance programs (RAP).

Meeting Feedback

Meeting Dates and Times

11/16/17
8:00AM - 10:00AM



Meeting Location

Two White Flint North
11545 Rockville Pike
T-6C01
Rockville MD


Contact

James Steckel
301-415-1026



Participation Level

Category 1

NRC Participants

Michael McCoppin, Office of New Reactors
William Ward, Office of New Reactors
James Steckel, Office of New Reactors


External Participants

Jiyong (Andy) Oh, Korea Hydro and Nuclear Power Company Ltd. (KHNP)
Robert Sweeney, Korea Hydro and Nuclear Power Company Ltd. (KHNP)


Docket Numbers - Facility Names

05200046 - Korea Hydro and Nuclear Power Co., LTD


Related Documents

ML17307A124 - 11/16/2017 NOTICE OF FORTHCOMING OPEN AND CLOSED PUBLIC TELECONFERENCE MEETINGS WITH KOREA HYDRO AND NUCLEAR POWER CO., LTD., TO DISCUSS VARIOUS TOPICS OF THE ADVANCED POWER REACTOR 1400 (APR1400) DESIGN



Comments

Portions of the meeting may include discussion of proprietary topics and will be closed to the public. In the non-proprietary portion of a meeting, members of the public will have one or more opportunities to communicate with the NRC after the business portion of the meeting. Interested members of the public can request to participate in the non-proprietary meeting portions via toll-free teleconference. For details, contact the NRC meeting contact no later than the day before the scheduled meeting.