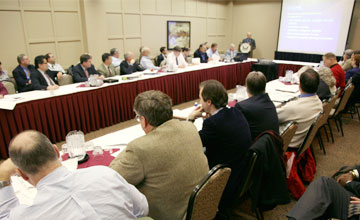 Public Meeting Schedule: Meeting Details
[
New Search
]
---
Purpose

Workshop on IAEA safeguards with respect to NRC-licensed facilites.

Meeting Feedback

Meeting Dates and Times

08/29/07
9:00AM - 4:00PM

08/28/07
9:00AM - 5:00PM



Meeting Location

NRC Executive Boulevard Building
6003 Executive Blvd.
Room EBB-2-E-01
Rockville MD


Contact

B. Moran
(301) 492-3124



Participation Level

Category 2

NRC Participants

Office of Nuclear Material Safety and Safeguards
Office of International Programs


External Participants

Global Laser Enrichment
Nuclear Fuel Services Inc
Louisiana Energy Services
AREVA NC, Inc.
U.S. Enrichment Corporation


Docket Numbers - Facility Names

07000143 - NUCLEAR FUEL SERVICES, INC.
07001113 - GLOBAL NUCLEAR FUEL - AMERICAS
07003103 - LOUISIANA ENERGY SERVICES (LES
07007004 - U. S. ENRICHMENT CORP. (ACP)
07007015 - AREVA NC INC.


Related Documents

ML072260042 - 08/28 - 08/29/2007 - Open Meeting Notice - Workshop on IAEA Safeguards with Respect to NRC-Licensed Facilities.