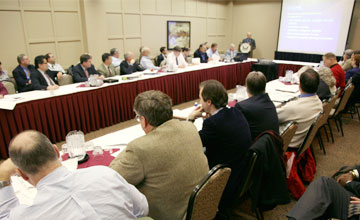 Public Meeting Schedule: Meeting Details
[
New Search
]
---
Purpose

Discuss Exelon presubmittal for alternate source term for Peach Bottom Units 2 and 3.

Meeting Feedback

Meeting Dates and Times

02/16/07
10:00AM - 12:00PM



Meeting Location

NRC One White Flint North
11555 Rockville Pike
O-14B10
Rockville MD


Contact

Joseph Hoch
(301) 415-3635



Participation Level

Category 1

NRC Participants

Office of Nuclear Reactor Regulation


External Participants

Exelon Generation Co LLC


Docket Numbers - Facility Names

05000277 - PEACH BOTTOM 2
05000278 - PEACH BOTTOM 3


Related Documents

ML070240570 - 02/16/2007 Notice of Meeting with Exelon Generation Co. to Discuss technical aspects of the licensee's presubmittal for an alternate source term for the Peach Bottom Atomic, Units. 2 and 3.



Comments

Portions of meeting will be closed to the public.