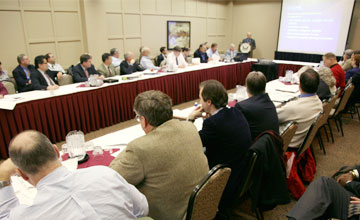 Public Meeting Schedule: Meeting Details
[
New Search
]
---
Purpose

Discuss WCNOC's plans for changes to Wolf Creek Generating Station's fire protection program.

Meeting Feedback

Meeting Dates and Times

09/05/06
1:00PM - 4:00PM



Meeting Location

NRC Region IV
611 Ryan Plaza Drive, Suite 400
Training Conference Room
Arlington TX


Contact

John Mateychick
(817) 276-6560



Participation Level

Category 1

NRC Participants

Office of Nuclear Reactor Regulation
Region IV


External Participants

Wolf Creek Nuclear Operating Company


Docket Numbers - Facility Names

05000482 - WOLF CREEK 1


Related Documents

ML062370540 - 09/05/2006 Public Meeting With Wolf Creek Nuclear Operating Corporation to Discuss Changes to the Fire Protection Program.



Teleconference

Interested members of the public can participate in this meeting via a toll-free teleconference.
For details, please call the NRC meeting contact.