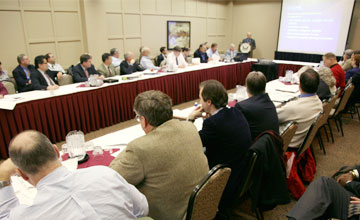 Public Meeting Schedule: Meeting Details
[
New Search
]
---
See Meeting notice

Purpose

* Meeting Canceled *

Discuss the risk significance of inspection finding re: Turkey Point Nuclear Plant documented in Inspection Report Nos. 05000250, 251/2005010. This finding involved unprotected post-fire safe shutdown cables and related non-feasible local manual operator action, and was preliminarily characterized as White finding.

Meeting Feedback

Meeting Dates and Times

11/08/05
10:00AM - 12:00PM



Meeting Location

NRC Region II Office
61 Forsyth Street
24T20
Atlanta GA


Contact

D. Charles Payne
(404) 562-4669



Participation Level

Category 1

NRC Participants

Office of Enforcement
Office of Nuclear Reactor Regulation
Region II


External Participants

Florida Power and Light Company


Docket Numbers - Facility Names

05000250 - TURKEY POINT 3
05000251 - TURKEY POINT 4


Related Documents

ML052940144 - 11/08/2005 Public Meeting with Florida Power & Light Company, on the Risk Significance of the Inspection Finding Documented in Inspection Report Nos. 05000250-05-010 and 05000251-05-010.