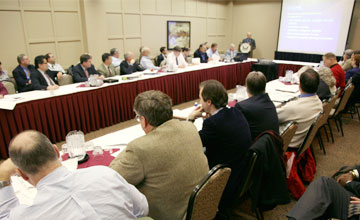 Public Meeting Schedule: Meeting Details
[
New Search
]
---
Purpose

Turkey Point Nuclear Power Plant spent fuel pools preapplication discussions with Florida Power and Light (FPL) regarding a proposed License Amendment Request to use Metamic inserts and fuel storage restrictions as a Boraflex remedy.

Meeting Feedback

Meeting Dates and Times

10/19/05
1:00PM - 4:00PM



Meeting Location

NRC One White Flint North
11555 Rockville Pike
O-8 B4
Rockville MD


Contact

Brendan Moroney
(301) 415-3974



Participation Level

Category 1

NRC Participants

Office of Nuclear Reactor Regulation


External Participants

Florida Power and Light Company


Docket Numbers - Facility Names

05000250 - TURKEY POINT 3
05000251 - TURKEY POINT 4


Related Documents

ML052770278 - 10/19/2005 Notice of Meeting with Florida Power and Light Re: Request to Use Metamic Inserts and Fuel Storage Restrictions as a Boraflex Remedy in Turkey Point Spent Fuel Pools.



Comments

Portions of the meeting may be closed.