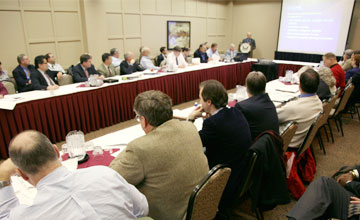 Public Meeting Schedule: Meeting Details
[
New Search
]
---
Purpose

Follow-up meeting of the Strategic Teaming and Resource Sharing (STARS) updating plans including a discussion of the status of Wolf Creek application, the STARS Center of Business, the STARS Methodology, and future STARS applications.

Meeting Feedback

Meeting Dates and Times

10/06/05
1:30PM - 3:30PM



Meeting Location

NRC One White Flint North
11555 Rockville Pike
O-7 B4
Rockville MD


Contact

Stephen Hoffman
(301) 415-3245



Participation Level

Category 2

NRC Participants

Office of Nuclear Reactor Regulation


External Participants

Parsons
Strategic Teaming and Resource Sharing
Texas Utility Company
Wolf Creek Nuclear Operating Company


Docket Numbers - Facility Names

05000275 - DIABLO CANYON 1
05000323 - DIABLO CANYON 2
05000445 - COMANCHE PEAK 1
05000446 - COMANCHE PEAK 2
05000482 - WOLF CREEK 1
05000498 - SOUTH TEXAS 1
05000499 - SOUTH TEXAS 2
05000528 - PALO VERDE 1
05000529 - PALO VERDE 2
05000530 - PALO VERDE 3


Related Documents

ML052580323 - 10/06/2005 Meeting with Strategic Teaming and Resource Sharing (STARS) for Licensees of Comanche Peak, Diablo Canyon, Palo Verde, South Texas, and Wolf Creek Plants.



Teleconference

Interested members of the public can participate in this meeting via a toll-free teleconference.
For details, please call the NRC meeting contact.