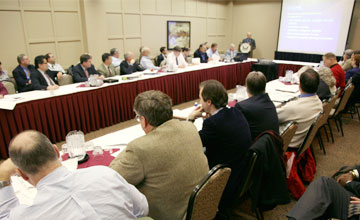 Public Meeting Schedule: Meeting Details
[
New Search
]
---
See the agenda Web page

Purpose


Discuss the environmental scoping process for the License Renewal Application (LRA) for Brunswick Steam Electric Plant (BSEP). These meetings will provide members of the public with the opportunity to provide comments regarding environmental issues that the NRC should consider during its review of the LRA. These meetings are being conducted as part of the scoping process outlined in 10 CFR Part 51 to support development of an environmental impact statement in support of the LRA.

Meeting Feedback

Meeting Dates and Times

01/27/05
7:00PM - 10:00PM

01/27/05
1:30PM - 4:30PM



Meeting Location

Southport City Hall
201 E. Moore Street
Southport NC


Contact

Richard Emch
(301) 415-1590



Participation Level

Category 3

NRC Participants

Office of Nuclear Reactor Regulation


External Participants

Public


Docket Numbers - Facility Names

05000325 - BRUNSWICK 1
05000324 - BRUNSWICK 2


Related Documents

ML050130438 - 01/27/2005 Forthcoming Meeting to Discuss the Environmental Scoping Process for Brunswick Steam Electric Plant, Units 1 and 2 (BSEP), License Renewal Application (LRA).

ML043060411 - Brunswick, Units 1 and 2, Application for Renewal of Operating Licenses.



Comments

Two identical sessions. Informal open house beginning one hour prior to each session.