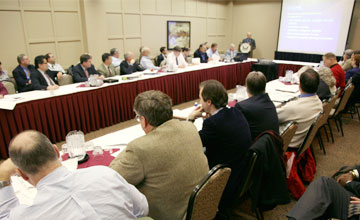 Public Meeting Schedule: Meeting Details
[
New Search
]
---
Purpose

Communicate the current status and results to date of Progress Energy's initiatives in the area of Fire Protection. It will include sharing insights on the results and discussion of future needs for submitting information for NRC reviews.

Meeting Feedback

Meeting Dates and Times

12/09/04
1:30PM - 4:00PM



Meeting Location

NRC One White Flint North
11555 Rockville Pike
O-8B4
Rockville MD


Contact

Chandu Patel
(301) 415-3025



Participation Level

Category 1

NRC Participants

Office of Nuclear Reactor Regulation


External Participants

Progress Energy


Docket Numbers - Facility Names

05000325 - BRUNSWICK 1
05000324 - BRUNSWICK 2
05000302 - CRYSTAL RIVER 3
05000261 - ROBINSON 2
05000400 - HARRIS 1


Related Documents

ML043270375 - 12/09/04 Progress Energy, Meeting Notice to Communicate the Current Status and Results to Date of Progress Energy's Initiatives in the Area of Fire Protection.