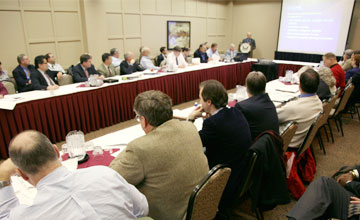 Public Meeting Schedule: Meeting Details
[
New Search
]
---
Purpose

Provide NRC with a Florida Power and Light engineering overview.

Meeting Feedback

Meeting Dates and Times

12/06/04
10:00AM - 12:00PM



Meeting Location

NRC Region II Office
61 Forsyth Street
Suite 24T20
Atlanta GA


Contact

Joel Munday
(404) 562-4560



Participation Level

Category 1

NRC Participants

Region II


External Participants

Florida Power and Light Company


Docket Numbers - Facility Names

05000335 - SAINT LUCIE 1
05000389 - SAINT LUCIE 2
05000250 - TURKEY POINT 3
05000251 - TURKEY POINT 4


Related Documents

ML043230073 - 12/06/2004 Notice of Meeting with Florida Power & Light Company (FP&L) to Provide NRC with FP&L Engineering Overview for St. Lucie & Turkey Point.



Teleconference

Interested members of the public can participate in this meeting via a toll-free teleconference.
For details, please call the NRC meeting contact.