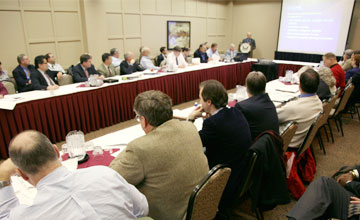 Public Meeting Schedule: Meeting Details
[
New Search
]
---
Purpose

Discuss Exelon's plans for instrumenting the new steam dryer at Quad Cities Unit 1 and discuss the acoustic circuit analysis Exelon is doing to support the analysis of steam dryers.

Meeting Feedback

Meeting Dates and Times

10/19/04
8:00AM - 12:00PM



Meeting Location

Exelon Nuclear, Cantera Cornerstone 2
4300 Winfield Road
Warrenville IL


Contact

Lawrence Rossbach
(301) 415-2863



Participation Level

Category 1

NRC Participants

Office of Nuclear Reactor Regulation
Region III


External Participants

Exelon Generation Co LLC


Docket Numbers - Facility Names

05000237 - DRESDEN 2
05000249 - DRESDEN 3
05000254 - QUAD CITIES 1
05000265 - QUAD CITIES 2


Related Documents

ML042790300 - 10/19/2004 Notice of Meeting with Exelon Generation Company, LLC to Discuss Exelon's Plans for Instrumenting the New Steam Dryer at Quad Cities Unit 1 and Discuss the Acoustic Circuit Analysis Exelon Is Doing to Support the Analysis of Steam Dryers.



Comments

Portions of the meeting will be closed to the public.