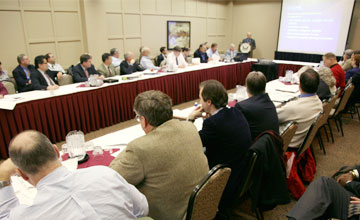 Public Meeting Schedule: Meeting Details
[
New Search
]
---
Purpose

Exelon will discuss their evaluation of the impact of flow induced vibration under EPU conditions on reactor pressure vessel internals, steam and feedwater systems and components.

Meeting Feedback

Meeting Dates and Times

09/24/04
8:00AM - 12:00PM

09/23/04
9:00AM - 4:00PM



Meeting Location

Cantera Cornerstone 2
4300 Winfield Road
Warrenville IL


Contact

Lawrence Rossbach
(301) 415-2863



Participation Level

Category 1

NRC Participants

Office of Nuclear Reactor Regulation
Region III


External Participants

Exelon Generation Co LLC


Docket Numbers - Facility Names

05000237 - DRESDEN 2
05000249 - DRESDEN 3
05000254 - QUAD CITIES 1
05000265 - QUAD CITIES 2


Related Documents

ML042530199 - 09/23/2004 Notice of Meeting with Exelon Generation Company, LLC Re: Exelon's Evaluation of Extended Power Uprate Flow Induced Vibration.



Comments

Portions of meeting will be closed to the public.