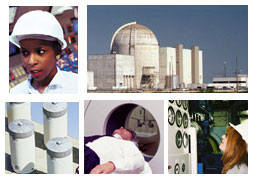 The NRC's Role In Topical Reports
Office Instruction LIC-500, "Processing Requests for Reviews of Topic`al Reports," describes the role of the U.S. Nuclear Regulatory Commission (NRC) in the topical report process, which includes the following responsibilities, as described on this page:
Management
The NRC assigns a Topical Report Program Manager (Stephen Philpott, 301-415-2365) to manage the overall topical report program and coordinate with the cognizant Vendor/Owners Group Project Manager (PM), who manages and coordinates the technical review of that organization's topical reports. The PM first determines whether the report meets the criteria for a topical report and notifies the sponsoring organization if the report qualifies for review. If it does, the PM then assigns the report a technical assignment control (TAC) number and assigns staff experts in the technical area for the report's topic to conduct a detailed technical review of the report.
The NRC may also find that addressing a safety-related topic in a topical report is desirable and contact a sponsoring organization to discuss the preparation of such a report and the possibility of a fee exemption or any associated Review Fees.
Requests for Additional Information
While reviewing the report, the NRC may request additional information by letter or during a meeting or a conference call. The NRC considers responses to these requests and to staff comments supplementary information to the original report. Both the requests and the responses are documented in any approved version of the topical report.

Decision About a Report
If a topical report is acceptable for referencing in a license application, the NRC sends a letter to the organization that submitted the report, transmitting the results of the evaluation and stating any conditions for its acceptance. For a proprietary topical report, the transmittal letter also states that both proprietary and nonproprietary versions must be referenced in future license applications.

Revisions
The PM issues a new NRC TAC number for each revision to an approved report. The NRC does not return reports superseded by a revision to the sponsoring organization because an approved report may remain acceptable for referencing in a license application.
Withdrawals
Over time, a topical report may become obsolete because it no longer adequately addresses the current state of technology, or the NRC's criteria or regulations have changed so that it is no longer applicable, or for other reasons. In this event, the NRC may request that the sponsoring office withdraw a report. By contrast, if a sponsoring organization requests that the NRC withdraw a report, the NRC notifies the organization when it has been categorized "withdrawn." After that time, the report can no longer be referenced in a license application. However, the report may be replaced by an updated or new topical report, which has a new identifier and new NRC TAC number to avoid confusion with the withdrawn report.

Page Last Reviewed/Updated Friday, April 01, 2016