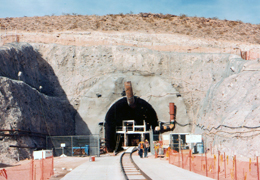 How We Regulate
On this page:
The NRC's regulatory process has five main components: (1) developing regulations and guidance for our staff and for applicants and licensees, (2) licensing or certifying applicants, (3) overseeing licensee operations and facilities, (4) evaluating operating experience, and (5) conducting research, holding hearings to address the concerns of parties affected by agency decisions, and obtaining independent reviews to support our regulatory decisions. See more about the NRC's general regulatory process.
Regulatory Activities
In accordance with its mission, the NRC focuses its regulatory actions on protecting the health and safety of the public and the environment both before and during the active life of a proposed repository, and after the facility has been decommissioned. The NRC staff accomplishes this mission by performing the following activities:
Establish and enforce safety and security regulations for a repository
Perform a comprehensive safety review of the license application
Perform an adoption review of the environmental impact statement
Conduct a public, formal adjudicatory hearing
Decide whether to authorize repository construction
Decide whether to issue a license to receive and possess waste at a repository (if construction is authorized and applies for a license to receive and possess)
Inspect and oversee any construction, waste emplacement, and/or repository closure activities

NRC Regulations for High-Level Waste Disposal
Regulations issued by the U.S. Nuclear Regulatory Commission (NRC) are found in Chapter I of Title 10, "Energy," of the Code of Federal Regulations (CFR). Chapter I is divided into Parts 1 through 199. Of these, the following are most relevant to the disposal of high-level waste (HLW) in a potential geologic repository:
10 CFR 2.310(f), "Selection of Hearing Procedures" [for proceedings related to an application for initial construction authorization for a high-level radioactive waste repository]
Subpart J, "Procedures Applicable to Proceedings for the Issuance of Licenses for the Receipt of High-Level Radioactive Waste at a Geologic Repository"
See also, information on all NRC Rules and Petitions.
The NRC welcomes Public Involvement in Rulemaking, and invites the public to comment on proposed rules and policies, licensing actions, and draft technical documents. We announce public comment opportunities in the Federal Register and on our Documents for Comment page.

NRC Staff Guidance Documents
Guidance documents that may prove useful to stakeholders include the following resources:
Web (HTML) versions of some guidance documents are available in the various Document Collections in the NRC's Electronic Reading Room. Some are also available in the NRC's Agencywide Documents Access and Management System (ADAMS); see our table listing their availability.

Communications with Applicants or Licensees
Generic communications are the NRC's primary method of sending information to specific classes of licensees. At this time, there are no generic communications relevant to either HLW disposal in general or the proposed geologic repository at Yucca Mountain, Nevada. However, some examples of these communications are listed below:

Page Last Reviewed/Updated Monday, February 12, 2018
Home
About Us
Popular Documents
Stay Connected