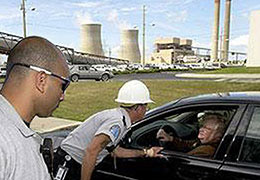 Public Meetings on Nuclear Security and Safeguards
The NRC's Office of Nuclear Security and Incident Response holds public meetings with stakeholders and members of the public to provide opportunities for stakeholders to be briefed on programs and issues of concern, and to discuss other security subjects. The NRC takes an integrated approach to safety, security, and emergency response. Meeting topics have included sharing of sensitive information, results of the reactor oversight program, design basis threat, aircraft impact, force-on-force inspections, and emergency response. Please contact us if you have any comments about the following meetings or suggestions for future meeting subjects.
This page includes links to files in non-HTML format. See Plugins, Viewers, and Other Tools for more information.
| Meeting Date | Description |
| --- | --- |
| 09/04/2008 | Meeting to Solicit Public Input on the Level of Transparency and Openness of NRC Security Programs - Rockville, MD |
| 08/27/2008 | Meeting to Solicit Public Input on the Level of Transparency and Openness of NRC Security Programs - Lynchburg, VA |
| 07/30/2008 | Meeting to Solicit Public Input on the Level of Transparency and Openness of NRC Security Programs - Holly Springs, NC |
| 01/23/2008 | Meeting to Discuss the U.S.Nuclear Regulatory Commission's Development of a Technical Basis for Transportion of Radioactive Materials Quantities of Concern |
| 01/17/2008 | Meeting to Discuss the U.S.Nuclear Regulatory Commission's Development of a Technical Basis for Transportion of Radioactive Materials Quantities of Concern |
| 01/15/2008 | Meeting to Discuss the U.S.Nuclear Regulatory Commission's Development of a Technical Basis for Transportion of Radioactive Materials Quantities of Concern |
| 11/08/2007 | Public Meeting on Security |
| 01/31/2007 | New Plants Security Task Force |
| 09/14/2006 | Public Meeting on Security |
| 07/25/2006 | New Plants Security Task Force |
| 09/01/2005 | Public Meeting on Security |
| 12/09/2004 | Radioactive Materials Quantities of Concern (RAMQC) Workshops - Oakland, CA |
| 12/06/2004 | Radioactive Materials Quantities of Concern (RAMQC) Workshops - Rockville, MD |
| 12/03/2004 | Radioactive Materials Quantities of Concern (RAMQC) Workshops - Lisle, IL |
| 08/04/2004 | Public Meeting on Security |
Page Last Reviewed/Updated Friday, August 11, 2017
Home
About Us
Popular Documents
Stay Connected