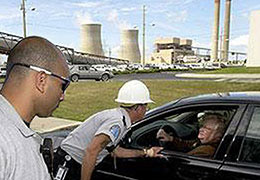 Frequently Asked Questions About 10 CFR Part 37
This page provides answers to non-technical frequently asked questions about the implementation of 10 CFR Part 37. For answers to technical questions, please view NUREG-2155.
Index to All Frequently Asked Questions Pages
What is the process of rescinding the NRC-issued security orders?
In order to ensure continuous protection of category 1 and category 2 quantities of radioactive materials, the NRC did not rescind NRC-issued security orders until the requirements of 10 CFR Part 37 were implemented by NRC and Agreement State licensees.  The 10 CFR Part 37 rule was effective on May 20, 2013, and NRC licensees were required to comply with the requirements by March 19, 2014. Agreement States' adoption of adequate and compatible 10 CFR Part 37 requirements was required by March 19, 2016.
The NRC rescinded security orders issued to its licensees on April 10, 2014. The NRC confirmed the Agreement States' adoption of adequate and compatible 10 CFR Part 37 requirements by the March 19, 2016, deadline, then rescinded the NRC security orders issued under NRC's common defense and security authority on April 21, 2016.  The order imposing "Trustworthiness and Reliability Requirements for Unescorted Access to Radioactive Materials for Service Providers that are not Manufacturers and Distributors" is the only remaining order that has not been rescinded by the NRC. This Order was issued to licensees at their request to voluntarily commit to requirements to assess the trustworthiness and reliability of employees to enable them to provide services to licensees with unescorted access.  This Order will be rescinded after further outreach regarding the applicability of 10 CFRPart 37 requirements to service providers is completed by the NRC.
The NRC as well as the Agreement States also rescinded NRC- or Agreement State-issued orders, removed license conditions, or took any other necessary action with respect to the Increased Controls and Fingerprinting security requirements issued to licensees under the NRC's as well as the Agreement States' public health and safety authority on, or shortly following, the effective dates of their respective requirements.

When and how will the License Conditions for NRC-issued security orders be removed from licenses?
The NRC Regional Offices are responsible for removing the license conditions for security requirements on or after the compliance date for Part 37.

Is the Increased Controls (IC) security course for NRC and Agreement State inspectors going to be revised or will there be a Part 37 course and a separate IC course?
Currently, the IC security course for NRC and Agreement State inspectors and license reviewers is being changed to a course on the Part 37 regulations. NRC will no longer provide training on the ICs. NRC will continue to provide the full week-long training courses for new inspectors and license reviewers and will provide alternatives (e.g., computer-based modules, short courses, webinars) for inspectors with existing training and experience who are beginning to inspect against Part 37 requirements.

After the effective date of the rule, when working under reciprocity in NRC jurisdiction, should Agreement State licensees under Increased Controls (IC) requirements comply with their license or with Part 37?
Agreement State licensees working under reciprocity in NRC jurisdiction, or in any other Agreement State jurisdiction that has adopted the Part 37 requirements, must comply with the Part 37 requirements in those jurisdictions.

When will the licensing guidance in the NUREG-1556 series be updated?
Currently, NUREG-1556 series is in process of being updated. NUREG-1556 is publically available and will provide reference to Part 37. The implementing guidance for Part 37 is in NUREG-2155.

Is there an implementing guide available?
The implementing guidance for Part 37 is in NUREG-2155.

When will the implementation guidance be updated on the rule in light of licensing and inspection experience?
As questions and issues are brought to the attention of the Working Group, the Working Group will develop guidance (in the form of questions and answers) addressing the issue(s).  The Working Group will determine the best method to distribute the response (e.g. blog, website, email, generic communication, incorporation into published guide) based on the significance and how broadly the concern applies to a range of licensees.

Is other guidance available for physical security?
The staff is developing a "best practices guide" to provide practical guidance on effective use of physical security technology and procedures.  Completion is expected in early 2014.

When will the inspection procedures for Part 37 be available?
A draft inspection procedure is being developed. Once completed, it will be reviewed by various NRC offices, Regions and Agreement States for a 30-day comment period. The inspection procedure is expected to be published in the Fall of 2013.

Will the enforcement guidance be updated?
Current NRC enforcement guidance is adequate to disposition Part 37 violations.  NRC's current enforcement guidance can be found in the NRC Enforcement Policy, and the NRC Enforcement Manual.  If there are any minor revisions identified, they will be addressed in the next overall revisions to the NRC Enforcement Policy and Manual.

When will the guidance be updated for the protection of sensitive information?
The guidance for the protection of sensitive information will be available in 2015.

Who can I contact if I have a question or concern?
For any questions or comments related to any 10 CFR Part 37 topic, please send an email to Part37Resource@nrc.gov.

Page Last Reviewed/Updated Tuesday, June 14, 2016