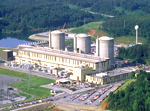 Public Meetings for 2004
This page lists, in chronological order, the notices, slides and summaries documenting the public meetings held concerning Reactor Vessel Head Degradation for 2004. To learn about future meetings, see our public meeting schedule page.
This page includes links to files in non-HTML format. See Plugins, Viewers, and Other Tools for more information.
| Date | Description |
| --- | --- |
| 11/16/2004 | Category 1 Meeting: FENOC Performance Meeting |
| 03/22/2004 | Category 2 Meeting: To present a status report on the research programs addressing the corrosion of reactor pressure boundary materials in concentrated boric acid solutions, and a status report on the decontamination and examination of CRDM nozzles removed from the North Anna 2 head. |
| 03/02/2004 | Category 2 meeting: To discuss with Industry the Revised Orders issued on Reactor Vessel Head Inspections |
For related information see Generic Activities on Alloy 600 Cracking.

Page Last Reviewed/Updated Friday, May 15, 2020
Home
About Us
Popular Documents
Stay Connected