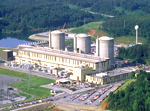 Status of Recommendations
This page includes links to files in non-HTML format. See Plugins, Viewers, and Other Tools for more information.
The following table provides a list of the Davis-Besse LLTF Recommendations with the following information:
LLTF Recommendation Number
Description of Recommendation
Priority as established by the Senior Management Review Team
Category

Stress Corrosion Cracking (SCC)
Operating Experience (OpE)
Inspection Programs (Insp)
Barrier Integrity (BI)

Target Date for Completion
Target Date for follow-up Effectiveness Review
Organizational Unit with Lead Responsibility for Implementing Recommendation
Current Status as of the indicated date
For additional information, see our Status of Davis-Besse LLTF Recommendations table.
Page Last Reviewed/Updated Wednesday, April 20, 2016