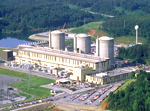 Quick Facts
Nuclear Power Plants are safe; we are making them safer by offering plants the opportunity to use a performance-based approach, a new and scientifically sound way of addressing fire risks.

Both the traditional deterministic fire protection approach and the newer risk-informed, performance-based fire protection approach provide adequate protection of public health and safety.

The performance-based approach enables licensees to make plants safer by incorporating risk insights into developing and maintaining their fire protection program.

NRC's Fire Protection Rule in Title 10, Section 50.48, of the Code of Federal Regulations (10 CFR 50.48) allows licensees to voluntarily adopt NFPA 805 and use the fire protection requirements it contains.

NFPA 805 sets performance-based goals, objectives, and criteria for nuclear safety and radioactive release.

NFPA 805 requirements are applied during all plant operation modes.

NFPA 805 describes the fundamental fire protection program elements and minimum design requirements for fire protection systems and features to satisfy the performance criteria.

The NFPA 805 standard provides greater use of engineering analysis, fire modeling, and fire probabilistic risk assessments.

The NFPA 805 performance-based approach will provide more flexibility for licensees to address very low risk issues without NRC's previous approval.

Adoption of NFPA 805 is expected to reduce the need for license exemptions and amendments, thereby reducing unnecessary regulatory burden associated with fire protection requirements.

During the transition to NFPA 805, licensees will reevaluate license exemptions or deviations to ensure that their assumptions remain valid.

NFPA 805 focuses on reactor-safety-oriented fire protection, adds appropriate flexibility, and provides a more detailed evaluation of safe-shutdown conditions in the event of a fire.

The Nuclear Energy Institute (NEI) and industry developed guidance for implementing a risk-informed program which the NRC has endorsed along with some exceptions and additional clarifications.

The NRC staff has developed guidance and is reassessing current guidance for newly identified issues. The staff is using its publicly available "frequently asked question" process to discuss such issues and their resolution.

Page Last Reviewed/Updated Thursday, May 04, 2017
Home
About Us
Popular Documents
Stay Connected