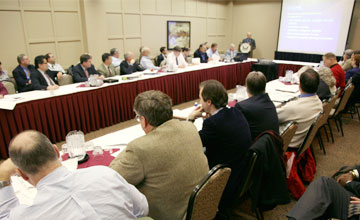 Spotlight
Additional Events
Each year, outside organizations host events that are held at the Conference Center during the week of the RIC. These events are not sponsored or endorsed by the U.S. NRC. Most events are by invitation only and attendance arrangements must be made directly with the hosting organization.
Wednesday, March 12, 2008
NEI will be hosting a luncheon on Wednesday, March 12, 2008. For detailed information, contact Ella McDowell, Conference Services Manager, at (202) 739-8026 or via e-mail at emm@nei.org. Please submit reservations using the NEI Online Registration Form or fax using the attached Registration Form .
Page Last Reviewed/Updated Wednesday, November 13, 2013