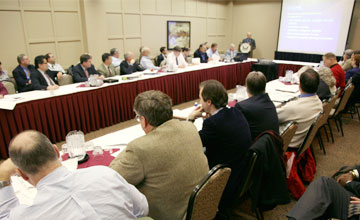 RIC Conference Registration
About Conference Registration
Registration is required even if you attend only one session of the RIC.
Conference Registration Options
On-line registration is now closed. If you have not register, please complete the registration form and bring it with you to the conference during registration hours.
Registration hours are:
Tuesday, March 13 7:00 am - 5:00 pm
Wednesday, March 14 7:00 am - 5:00 pm
Thursday, March 15 7:00 am - 12:00 pm
On-Line Registrant List
All registration formats (on-line, mail, fax) allow you to elect to add your name and contact information to the ON-LINE RIC Registrant List. However, your information will not be added unless permission is provided. To grant permission, please be sure to check the box at the bottom of the on-line form or, on the hard copy form, check the box and sign your name. This list will be continually updated in advance of the conference and a final list will be posted after the RIC.
Important Notice
For security reasons, all attendees must register and wear their badge at all times during the conference. Please be sure to bring a photo identification during registration check-in.
Page Last Reviewed/Updated Friday, August 28, 2015
Home
About Us
Popular Documents