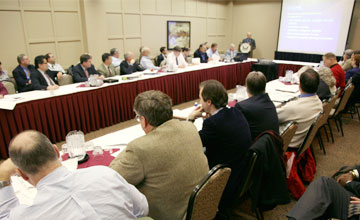 Frequently Asked Questions About the Regulatory Information Conference (RIC)
This page is designed to answer questions frequently asked by RIC participants. If you have a question not posted below or would like further clarification on a particular topic, please send an email to RICHelpDesk.resource@nrc.gov.
Index to All Frequently Asked Questions Pages
Is there a conference fee for the RIC?
No, there is not a registration fee for RIC participants.

What is the dress code for the RIC?
There is no specific dress code for the RIC, however, most attendees wear a suit and tie or business attire. Business casual attire is also acceptable.

What kind of weather can I expect in the D.C. Metro area in March?
Average highs and lows in the D.C. Metropolitan area are 58oF (14.4oC) and 33oF (0.6oC) degrees, respectively. Average precipitation in March is about 4.13 inches (10.49 cm). Though generally cold, please be aware that the weather conditions in the D.C. Metropolitan area can fluctuate drastically in the spring time, and prepare for both warm and cold temperatures. For current weather conditions, please visit the National Weather Service or the Weather Channel.

Are there any special on-site lodging accommodations for RIC participants?
Please see the RIC Hotel and Reservations page.

Do I need a name badge if I only attend one session?
Yes, all attendees must visibly wear a conference name badge for the conference duration. Attendees are required to show a photo ID in order to receive a conference name badge.

How many days or sessions can I attend?
You can attend as many days or sessions of the conference as you wish. For the days or sessions you do attend, you must be registered and please remember to wear your conference name badge!

How can someone get in touch with me while I am at the conference?
NRC staff will post messages for conference attendees on a bulletin board at the RIC Message Center outside of the Grand Ballroom (Rooms D and E). Conference attendees should check the bulletin board to see if they have any messages. Please note that telephone messages to the hotel's front desk will NOT be forwarded or delivered.
If you need to get in touch with someone while on-site, stop by the RIC Message Center or call 301-822-9208 and leave your message. This number will only be in operation during the RIC.

How do I purchase a ticket for the NEI Luncheon or other affiliate event?
Information to be provided in the near future.

How can my organization's event be posted on the RIC web page?
Although the USNRC does not sponsor or endorse any affiliate activities, we will add information about your organization's event to the RIC Web page if the function is held at the Bethesda North Marriott Hotel and Conference Center the week of the RIC. Please send an email to the RICHelpDesk.resource@nrc.gov with the organizational name, event name, phone number and email address of the individual responsible for event coordination. This information will be updated on the Affiliate Listing link for participant reference.

How do I get my name added to the On-Line Registrant List?
If you have registered and do not see your name on the On-Line Registrant List, there may be several reasons:
1. You did not check the box and give permission. If this happened, DO NOT register again as this will cause a duplicate registration entry. Contact Lanmark Technology, Inc. (LMT) at 703-218-9870 and ask to revise your registration so that your information will appear on the On-Line Registrant List.
2. The request is not automatic. Allow time for your name to be processed through the system. If some time has gone by and your name still is not listed, contact LMT and ask to revise your registration to that your name will appear on the On-Line Registrant List.

When I click on a link, why doesn't it work?
Try refreshing your screen by clicking on the reload or refresh button on your top toolbar. If that does not work, you may want to clear out your memory and disk cache. If this still does not resolve the problem, please contact us at RICHelpDesk.resource@nrc.gov.

I did not receive a confirmation notification when I registered. Should I register again?
No. To avoid duplicate entries in the USNRC Registration Database, please DO NOT register again. Instead, contact Lanmark Technology, Inc. (LMT) at 703-218-9870 to verify your registration status. If you are registered, ask for your conference confirmation notification letter. This notification letter can be either faxed or emailed to you.

When will online presenter materials be available?
Program materials will be posted online for participant reference as soon as they are made available by the session presenter. All efforts will be made to ensure presentation materials are posted at least one week prior to the conference date. For additional information regarding the online, electronic RIC conference materials, please visit our Paperless Conference FAQs web page.

How can I get copies of presentations and speeches from the RIC?
Information from previous conferences are posted at our Past RIC Information page. If you still do not find the information you are looking for, contact us at RICHelpDesk.resource@nrc.gov and we will try to help you. Please be sure to provide us with the conference year, session number (found on the Conference Program), the title of the session, and the presenters names.

Page Last Reviewed/Updated Friday, August 28, 2015