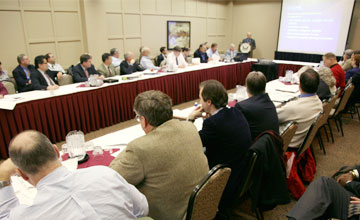 RIC 2006 Conference Program
The Program and Conference Schedule

provides RIC 2006 session information. Presentations and speeches made at the conference are available below.
For a schedule of the Poster Sessions, please see our Poster Sessions by the Office of Nuclear Regulatory Research (RES) Web page.
The IOUs and Action Items list

provides responses to questions which were not answered at the conference, and followup responses to actions that were taken away from the conference.
The Registrant List

(updated March 9, 2006) - provides the name, business address, phone number, and email address of conference registrants who gave permission to post their information on-line.
Organization Charts - USNRC | NRR | RES | NMSS | NSIR
Tuesday, March 7, 2006

Wednesday, March 8, 2006
Session
Session Name
Name of Presenter/ Presentation Type
P5
Plenary Session: RES
Carl J. Paperiello
Speech | Presentation
P6
Plenary Session
Jeffrey S. Merrifield, NRC Commissioner
Speech | Presentation
W3BC
Risk-Informed Regulatory Structure for Future Reactors
W3BRK
Yucca Mountain
W3D
GSI 191
W3F
International Perspectives
W3GH
Safety Culture Initiatives and Implications
P7
Plenary Session

Gregory B. Jaczko, NRC Commissioner
Speech

P8
Plenary Session

Peter B. Lyons, NRC Commissioner
Speech

W4BC
Advanced Reactors - GEN IV
Research and Licensing Strategies for the NGNP
W4D
Risk-Informed Activities - Status and Direction
W4E
ROP - Assessment Program Update
Session (all presentations combined)
W4F
Current Seismic Issues and Associated Research
W4GH
Spent Fuel Management

Thursday, March 9, 2006
| Session | Session Name | Name of Presenter/ Presentation Type |
| --- | --- | --- |
| Th5BC | Materials Degradation | |
| Th5D | Digital Instrumentation and Control - Diversity and Defense-in-Depth for Digital Systems | |
| Th5E | ROP Inspection Program Update | |
| Th5F | Construction Inspection Program (CIP) and Inspection, Tests, Analyses and Acceptance (ITAAC) | Mary Ann M. Ashley and Joseph Colaccino |
| Th5GH | Security - Security Program Update and Path Forward | |
| RG1BC | Region I Breakout | Session (all presentations combined) |
| RG2D | Region II Breakout | Ashok Bhatnagar - Presentation 1, Presentation 2 |
| RG3E | Region III Breakout | Session (all presentations combined) |
| RG4GH | Region IV Breakout | Joseph V. Parrish |

Page Last Reviewed/Updated Monday, April 04, 2016