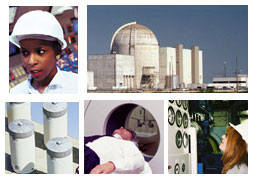 Radiation Dispersion Maps and Information
The U.S. Nuclear Regulatory Commission (NRC) does not generate raw radiological data or dispersion maps. Instead, we collect and analyze data from all available sources in order to assess its implications, consistent with our mission to protect public health and safety.
In the event of a radiological emergency in the United States, radiological data would be measured primarily by the affected utility, the affected State(s), the U.S. Department of Energy (DOE), the U.S. Environmental Protection Agency (EPA), and U.S. Department of Defense (DOD) Civil Support Teams. The public release of this data, whether in raw or processed form, would be at the discretion of the entity that measures the data or entities responsible for releasing quality-controlled data products, such as the U.S. Department of Homeland Security (DHS).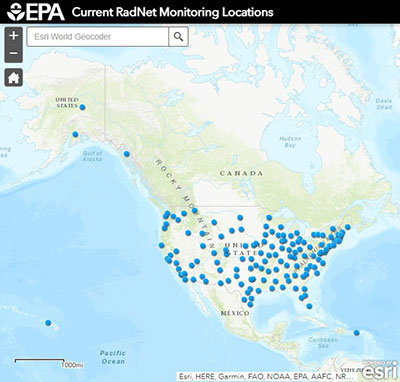 Particularly useful resources include the RadNet Monitoring System Data Sources administered by the EPA. The RadNet system monitors the nation's air, precipitation, drinking water, and pasteurized milk to determine levels of radiation in the environment, 24 hours a day, 7 days a week. RadNet sample analyses and monitoring results provide baseline data on background levels of radiation in the environment, and can detect increased radiation from radiological incidents. The available RadNet Dispersion Map (illustrated to the right as a static image) depicts monitoring results, which are updated several times daily. You can also search the RadNet Database to find monitoring data, or visit EnviroFacts to view the EPA's latest sampling results for precipitation, drinking water, and milk.
Page Last Reviewed/Updated Monday, October 02, 2017
Home
About Us
Popular Documents
Stay Connected