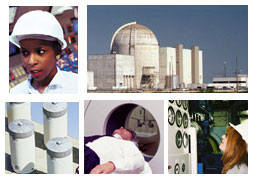 Success Stories
The U.S. Nuclear Regulatory Commission (NRC) Tribal Colleges and Universities (TCUs), Historically Black Colleges/Universities (HBCU), and Hispanic Serving Institutes (HSI) was established in 2006, and is part of the agency's Minority Serving Institutions Program (MSIP). The MSIP is administered by NRC's Office of Small Business and Civil Rights.
Goals
The goal of MSIP and NRC offices is to help achieve the Federal Government's science, technology, engineering, and mathematics (STEM) workforce development and diversity inclusion initiatives. The MSIP's measurable objectives are to assist MSIs in their efforts to 1) achieve academic excellence, 2) build capability, capacity and infrastructure, 3) develop human capital, 4) gain knowledge and skills needed to compete for grants, cooperative agreements, contracts and resources, 5) participate in federal and public programs, and 6) produce a diverse skilled workforce.
On this page:
This page includes links to files in non-HTML format. See Plugins, Viewers, and Other Tools for more information.
Research Projects
| University | Amount | Focus | Title |
| --- | --- | --- | --- |
| Texas A&M Kingsville | $50,000.00 | Uranium Mining Environmental Impact | TAMUK Integrated Assessment of Uranium Mining Environmental Impacts and Restoration Effectiveness Program [Progress Report] |
| Jackson State University | $51,753.00 | Probabilistic Risk Assessment | Risk Assessment and Risk Management of Nuclear Technology Through Large Scale Simulation and Modeling [Progress Report] |
| Norfolk State University | $100,000.00 | Student Development | Increasing the Recruitment and Retention of Underrepresented Students in STEM Majors through Nuclear Safety Research [Progress Report] |
| California State University Dominguez Hills | $80,000.00 | Robotic Automation | Nuclear Safety Applications of Autonomous Robots (research related to use of robots for ground, aerial & underwater nuclear safety) |
| Morgan State University | $80,000.00 | Waste Management | Preparation of Precursors & Models for the Immobilization of Technetium Wastes – Cancer Research Innovations |
| North Carolina A&T University | $50,000.00 | Seismic | Design of Active Control for Seismically Excited Nuclear Plans Considering Time-Delays and Stochastic Vibration |

Research Programs
| University | Amount | Focus | Title |
| --- | --- | --- | --- |
| Florida A&M University | $90,000.00 | Radiation Protection | Radiation Protection Education and Research at Florida A&M University [Progress Report] |
| Oak Ridge Associated Universities, Inc. | $269,000.00 | Student Development | HBCU Research Participation Program [Progress Report] |
| City College of New York | $100,000.00 | Thermal Hydraulics | Nuclear Research Opportunities Program (NY-NROP) – The Research Foundation CUNY [Progress Report] |

Infrastructure
| University | Amount | Focus | Title |
| --- | --- | --- | --- |
| Chief Dull Knife Community College | $25,000.00 | Lab Equipment | Research Lab Infrastructure Development [Progress Report] |
| Polytechnic University of Puerto Rico | $34,543.00 | Lab Equipment | PUPR Research Laboratory Equipment Support [Progress Report] |
| Wilberforce & Central State University | $110,000.00 | Lab Equipment | Nuclear Engineering Education |

Page Last Reviewed/Updated Thursday, December 03, 2015
Home
About Us
Popular Documents
Stay Connected