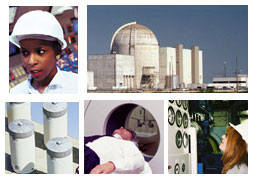 NRC Contracting Opportunities
For more information about Contracting Opportunities, review the following information:
How NRC Buys
The NRC procures products and services in accordance with the Federal Acquisition Regulation (FAR) and the NRC Acquisition Regulation (NRCAR). The Federal Acquisition Regulation is Chapter 1 of Title 48 of the Code of Federal Regulations. The NRC Acquisition Regulation is Chapter 20.

How To Identify Potential Contract Opportunities
NRC publicizes and posts proposed business opportunities which are expected to exceed the threshold published in FAR 5.101(a)(1) on the FedBizOpps Web site.
NRC also posts notices of proposed contract actions with estimated values contained in FAR 5.101(a)(2) on this web site. For a current list of those opportunities see Notices of Proposed Contract Actions Posted in Accordance with FAR 5.101(a)(2). Request for Quotations (RFQs) are not posted with these notices. All interested parties must contact the Point of Contact (POC) identified under the proposed contract action to request a copy of the RFQ. All responsible sources may submit a quotation that, if received before the RFQ closing date, the NRC will consider.
The NRC does not maintain a separate Bidders Mailing List to automatically send prospective vendors copies of solicitations. We encourage you to take advantage of electronic methods to identify business opportunities with NRC. If your firm is a small business or minority business enterprise, we encourage you to register in the System for Award Management (SAM). NRC uses the Small Business Administration's "Dynamic Small Business Search" as the primary database to identify small and disadvantaged businesses to fulfill our requirements.

Unsolicited Proposals
An unsolicited proposal is a written proposal for a new or innovative idea that is submitted to an agency on the initiative of the offeror for the purpose of obtaining a contract with the Government. Generally, to be accepted as an "unsolicited proposal," the offer must be innovative and unique and not something that the Government is already doing. See FAR 15.603 for more specific criteria. Preliminary contact with agency technical personnel or other appropriate personnel before preparing a detailed unsolicited proposal or submitting proprietary information to the Government may save considerable time and effort for both parties. If you elect to submit an unsolicited proposal, see NRCAR 2015.6 for further information.
Alternative Dispute Resolution Techniques
Alternative Dispute Resolution Techniques

Page Last Reviewed/Updated Monday, February 05, 2018
Home
About Us
Popular Documents
Stay Connected