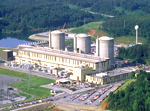 Approved Power Uprate Application Information For Vermont Yankee
The following table refers to NRC-approved power uprate applications. The table shows the ADAMS accession number for (1) each plant's power uprate application, (2) any supplement to the application, and (3) the license amendment approving the application and allowing the licensee to increase power. These documents illustrate the information that the NRC staff requires in order to complete a power uprate review.
NRC encourages licensees to review the documents listed in the table before preparing a power uprate application. Addressing the information contained in these documents below may improve the quality of the application, thereby reducing the number of RAIs, and expedite the staff's review.
On this page:
Vermont Yankee Nuclear Power Station
License No. DPR-28 (Docket No. 50-271)
This page includes links to files in non-HTML format. See Plugins, Viewers, and Other Tools for more information.
Application Information
Date
Description
Adams
Accession No.
09/10/2003
Techical Specification Proposed Change No. 263 Extended Power Uprates
ML032580089

Supplement Information
Date
Description
Adams
Accession No.
10/01/2003
Supplement No. 1 - Technical Review Guidance
ML032810447
10/28/2003
Supplement No. 2 - Grid Impact Study
ML033090072
10/28/2004
Supplement No. 3 - Updated Information
ML033100141
01/31/2004
Supplement No. 4 - NRC Acceptance Review
ML040360118
01/31/2004
Supplement No. 5 - Response to Request for Additional Information
ML040480640
03/04/2004
Supplement No. 6 - Withholding Proprietary Information
ML040710568
05/19/2004
Supplement No. 7 - Confirmatory Results
ML041470417
07/02/2004
Supplement No. 8 - Response to Request for Additional Information
ML042080464
07/27/2004
Supplement No. 9 - Revised Containment Overpressure Envelope
ML042250140
07/30/2004
Supplement No. 10 - Response to Request for Additional Information
ML042160188
08/12/2004
Supplement No. 11 - Response to Request for Additional Information
ML042320080
08/25/2004
Supplement No. 12 - Revised Grid Impact Study
ML042430566
09/14/2004
Supplement No. 13 - Response to Steam Dryer Action Items
ML042640197
09/15/2004
Supplement No. 14 - Response to Request for Additional Information
ML042860275
09/23/2004
Supplement No. 15 - Response to Steam Dryer Action Items No. 2
ML042720217
09/30/2004
Supplement No. 16 - Additional Information Related to Request for Additional Information EMEB-B-5
ML042820137
09/30/2004
Supplement No. 17 - Response to Request for Additional Information related to the 10 CFR 50 Appendix R Timeline
ML042820142
10/05/2004
Supplement No. 18 - ECCS Pump Net Positive Suction Head Margin
ML042870195
10/07/2004
Supplement No. 19 - Initial Plant Test Program
ML042880351
10/07/2004
Supplement No. 20 - Meeting on Steam Driver Analysis
ML042890410
12/08/2004
Supplement No. 22 - 10 CFR 50 Appendix R Timeline Verification
ML043510227
12/09/2004
Supplement No. 21 - Steam Dryer Power Ascension Testing
ML043490173
02/24/2005
Supplement No. 23 - Response to Request for Additional Information
ML050610252
03/10/2005
Supplement No. 24 - Response to Request for Additional Information
ML050750140
03/24/2005
Supplement No. 25 - Station Blackout and Appendix R Analyses
ML050880400
03/31/2005
Supplement No. 26 - Steam Dryer Analyses and Monitoring
ML050960049
04/05/2005
Supplement No. 27 - Dryer Acoustic Load Methodology Benchmark
ML051010177
04/22/2005
Supplement No. 28 - Response to Request for Additional Information
ML051180428
06/02/2005
Supplement No. 29 - Steam Dryer Computational Fluid Dynamics
ML051580370
08/01/2005
Supplement No. 30 - Response to Request for Additional Information
ML052230384
08/04/2005
Supplement No. 31 - Response for Additional Information
ML052310461
09/10/2005
Supplement No. 32 - Additional Information
ML052630038
09/14/2005
Supplement No. 33 - Response to Request for Additional Information
ML052650122
09/18/2005
Supplement No. 34 - Additional Information
ML052660025
09/28/2005
Supplement No. 35 - Response to Request for Additional Information
ML052770039
10/17/2005
Supplement No. 36 - Response to NRC's Letter re: License Conditions
ML052940225
10/21/2005
Supplement No. 37 - Additional Information
ML053000280
10/21/2005
Supplement No. 38 - Containment Overpressure Credit
ML053000281
10/26/2004
Supplement No. 39 - Risk Analysis of Containment Overpressure
ML053060323
10/29/2005
Supplement No. 40 - Draft Safety Evaluation Proprietary Information
ML053110279
11/02/2005
Supplement No. 41 - Condensate And Feedwater Transient Response Engineering Analysis
ML053120378
11/22/2005
Supplement No. 42 - Steam Dryer Inspection Results
ML053320190
12/02/2005
Supplement No. 43 - Response to Request for Additional Information
ML053410153
01/10/2006
Supplement No. 44 - Revised License and Technical Specifications
ML060170320
02/22/2006
Supplement No. 45 - Revised Technical Specification Pages
ML060590261

Amendment Information
Date
Description
Adams
Accession No.
03/02/2006
License Amendment 229 Regarding Extended Power Uprate
ML060050024

Page Last Reviewed/Updated Friday, April 21, 2017
Home
About Us
Popular Documents
Stay Connected