Workshop on Advanced Manufacturing Technologies for Nuclear Applications
Documents Describing Related NRC Activities:
Location / Dates: Virtual / December 7-10, 2020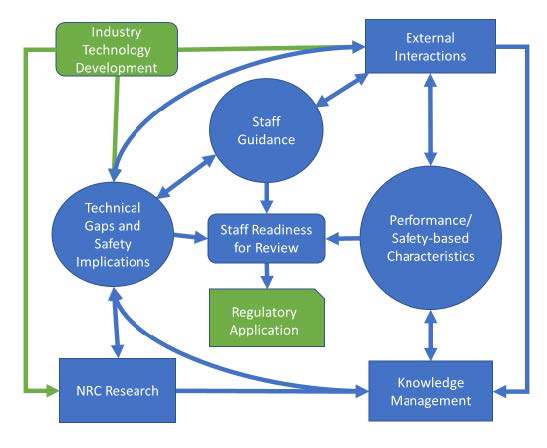 Motivation:
There is increasing industry interest and plans to implement advanced manufacturing technologies (AMTs) for nuclear applications, including replacement components in operating nuclear power plants and in initial construction of small modular and advanced reactors.
NRC must be prepared to efficiently and effectively regulate and respond to industry submittals that apply AMTs for both operating and future plants.
Objectives:
Discuss ongoing activities related to AMTs,
including nuclear industry implementation plans, codes and standards activities, research findings, and regulatory approaches in other industries.
Inform public of NRC's activities and approach to approving use of AMTs.
Determine, with input from nuclear industry stakeholders and other technical organizations, areas where NRC should focus to ensure safe implementation of AMTs.
Tentative Workshop Sessions:
Session 1 – Plans and priorities for nuclear AMT development and implementation

Nuclear industry, vendor, and international perspectives

Session 2 – Operating experience and technical/practical challenges of AMTs

Post-service evaluations and experience from implementing AMTs
Nuclear industry/vendor, non-nuclear, and international perspectives

Session 3 – Important characteristics for safety of AMTs

Initial focus on the following AMTs: laser powder bed fusion (LPBF), directed energy deposition (DED), powder metallurgy – hot isostatic pressing (PM-HIP), electron beam welding (EBW), cold spray
Industry, regulatory, codes & standards, research, and international perspectives

Session 4 – Approaches to Component Qualification and Aging Management

Performance testing / inspection and in-service inspection/aging management
Industry, research, and non-nuclear perspectives

Session 5 – Codes and Standards Activities and Developments

Nuclear and non-nuclear perspectives

Session 6 – Regulatory Challenges and Approaches to AMTs

Industry and regulatory perspectives, including international and non-nuclear

Session 7 – Research and Development (R&D) of AMTs

Recent high-impact R&D achievements and near-term R&D plans
Including NDE methods (during and post-fabrication) and computer modeling
National lab, university and other researcher perspectives

Page Last Reviewed/Updated Friday, September 11, 2020
Home
About Us
Popular Documents
Stay Connected