Office of the Inspector General Semiannual Report to Congress (NUREG-1415, Vol. 18, No. 2)
On this page:
Download complete document
Publication Information
Manuscript Completed: April 2006
Date Published: April 2006
Reporting Period: October 1, 2005 – March 31, 2006
Office of the Inspector General
U.S. Nuclear Regulatory Commission
Washington, DC 20555
A Message from the Inspector General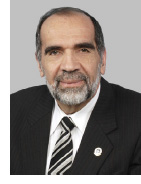 This Semiannual Report to Congress highlights the activities of the U.S. Nuclear Regulatory Commission (NRC) Office of the Inspector General (OIG) for the 6-month period ending March 31, 2006.
Our work reflects the legislative mandate of the Inspector General Act to identify fraud, waste, and abuse and to recommend appropriate corrective actions. The audits and investigations highlighted in this report demonstrate our commitment to improving the NRC's programs and operations and protecting their integrity. During this reporting period, we continued to assist the Commission's management in addressing its mission-related priorities.
Our office completed 11 performance and financial audit reports on NRC's programs and operations making recommendations to NRC for program improvement. In addition, OIG completed 25 investigations and 1 Event Inquiry which produced $16,938 in recoveries. A total of 30 cases were referred to the Department of Justice and 27 were forwarded to NRC management for action during this reporting period.
OIG remains committed to being an instrument for positive change at the NRC. This goal is achieved through the diligent work of all OIG employees. In addition to the results demonstrated through our various audits and investigations, this year we were the proud recipients of two group "Award for Excellence" honors from the President's Council on Integrity and Efficiency.
Finally, I would like to express my appreciation for the collaborative work between my staff and agency managers to address OIG findings and implement the recommendations made by my office. I look forward to continuing this work as we strive to accomplish our common goal of ensuring the effectiveness, efficiency, and integrity of NRC programs and operations.
Hubert T. Bell
Inspector General
Page Last Reviewed/Updated Thursday, June 09, 2016
Home
About Us
Popular Documents
Stay Connected