Office of the Inspector General Semiannual Report to Congress (NUREG-1415, Vol. 18, No. 1)
On this page:
Download complete document
Publication Information
Manuscript Completed: October 2005
Date Published: October 2005
Reporting Period: April 1, 2005 – September 30, 2005
Office of the Inspector General
U.S. Nuclear Regulatory Commission
Washington, DC 20555
A Message from the Inspector General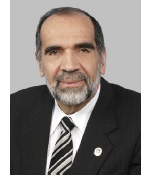 This Semiannual Report to Congress highlights the activities of the U.S. Nuclear Regulatory Commission (NRC) Office of the Inspector General (OIG) for the 6-month period ending September 30, 2005.
Before summarizing our recent activities, I want to acknowledge the excellence and competence of the auditors, investigators, and support staff who form the foundation of the NRC OIG. Just recently, for the third consecutive year, two of our audit and investigative teams were recognized by the President's Council on Integrity and Efficiency for outstanding performance. Most recently, the Award for Excellence in Audit was received for significant accomplishment in auditing and reporting on the ability of the NRC to respond to a security incident at United States nuclear power plants. The Award for Excellence in Investigations was received for outstanding work in investigating and reporting failures in the NRC's billing and financial statement process for nuclear reactor plants licensed by the agency. I commend these talented men and women for their hard work and dedication to the mission of this office.
Our office completed 13 performance audit reports of NRC's programs and operations making numerous recommendations to NRC for program improvement. Of note, the audit of NRC's contract closeout process showed that $6.4 million could be put to better use by the timely deobligation of funds on expired contracts. In addition, OIG completed 51 investigations and 2 Event Inquiries. Thirteen cases were referred to the Department of Justice and 19 were forwarded to NRC management for action during this reporting period.
Finally, I would like to express my appreciation for the collaborative work between my staff and agency managers to address OIG findings and implement the recommendations made by my office. I look forward to continuing this work as we strive to accomplish our common goal of ensuring the effectiveness, efficiency, and integrity of NRC programs and operations.
Hubert T. Bell
Inspector General
Page Last Reviewed/Updated Thursday, June 09, 2016
Home
About Us
Popular Documents
Stay Connected