NRC & Your Community Featured Topics
Greg Kolcum, the Senior Resident Inspector at Columbia Generating Station (far left), helps school children learn about science during a special event held at the Marie Curie STEM elementary school in Pasco, Washington. The event was hosted by the local chapter of Women in Nuclear.
Employees of the NRC show their dedication to your community, beyond the work they do at the agency, by volunteering their time at organizations like Miriam's Kitchen in Washington D.C. Recently, a group of NRC staffers spent the morning, before going to work, cooking and serving a hot breakfast for men and women who are homeless. Pictured from left to right: Kevin Chung, Ramon Gascot, Donald Chung, Mary Muessle, Executive Sous Chef Miriam's Kitchen Cheryl Bell, Olga Benjumea, Bo Pham, Damaris Marcano, and Jonathan Marcano.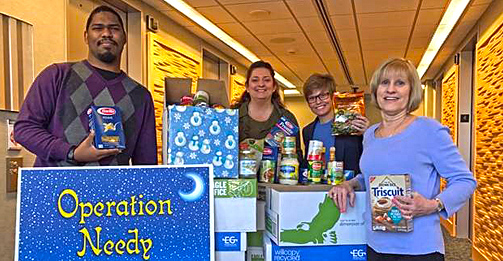 Employees of the NRC pitch in for 'Operation Needy,' an annual holiday season event to collect and donate food to the Damascus Lions Club in support of local Maryland communities. Pictured left to right: Christopher Douglas, Ivonne Couret, Stephanie West and Valerie Shannon.
.
Employees of the NRC contribute to the Marine Corps Reserves "Toys For Tots" campaign during this holiday season. Pictured is Vanessa Cox, who coordinated the agency's effort.
Page Last Reviewed/Updated Thursday, March 23, 2017