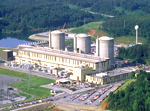 Issued Combined Licenses for North Anna, Unit 3
By letter dated November 26, 2007, Virginia Electric and Power Company, doing business as Dominion Virginia Power (Dominion) and Old Dominion Electric Power Company (ODEC), submitted an application to the NRC for a COL to construct and operate an ESBWR at the North Anna Power Station site (NAPS) Early Site Permit (ESP) site in Louisa County, Virginia. The site of the proposed North Anna Unit 3 is within the existing boundaries of the currently operating NAPS site. The site is located on the shore of Lake Anna, approximately 64 kilometers (km) (40 miles (mi)) north-northwest of Richmond, Virginia. Two operating nuclear generating units, North Anna Units 1 and 2, are located within the NAPS site.
On March 8, 2012, Dominion updated the COLA for North Anna Unit 3. In the revised application, Dominion stated that it has acquired sole title to the portion of NAPS on which Unit 3 would be located, would own Unit 3, and would construct and operate Unit 3. Dominion and ODEC own the remainder of NAPS, including the existing nuclear units and the independent spent fuel storage installation (ISFSI) at that site, as tenants in common, with respective undivided ownership interests of 88.4 and 11.6 percent, respectively. Dominion is the licensed operator of the existing facilities, with control of the NAPS site and existing facilities and authority to act as ODEC's agent.
For detail (including the latest submittal of the application, the related review schedule, and the associated staff documentation), see the following topics on this page:
Reference Documents
In accordance with Title 10, Part 52, of the Code of Federal Regulations (10 CFR Part 52), "Licenses, Certifications, and Approvals for Nuclear Power Plants," a COL application may reference a standard design certification, an early site permit, both, or neither. Many COL applications have referenced an application for design certification, in accordance with 10 CFR 52.55(c). On that basis, Dominion referenced the ESBWR design control document (DCD) in its COL original application for North Anna, Unit 3:

Application Information
The following table provides access to the COL Application that Dominion submitted for North Anna, Unit 3.
Some combined license applications were submitted with hyperlinks to various reference documents. Currently, the hyperlinks in those applications are not active. These hyperlinks represent an advanced feature that could be activated when the agency upgrades to web-based ADAMS, at which point these applications and documents such as the Final Safety Analysis Report and associated Technical/Topical Reports would be linked together. In the interim, and for those applications that do not have the hyperlink feature, the reference documents may be viewed under the Reference Documents section of the combined license application page. In addition, DVDs of the various documents are available by contacting the Public Document Room staff.
* The missing revision are supersede or not applicable.

Review Schedule
Key Milestones
Completion Date
Actual - A
Target - T
Application Tendered
11/27/07 - A
Acceptance Review

Acceptance Review Start

12/03/07 - A

Docketing Decision Letter Issued/Acceptance Review Complete

01/28/08 - A

Review Schedule Established/Schedule Letter Issued to Applicant

03/02/11 - A
Safety Review

Phase 1 - Preliminary Safety Evaluation Report (PSER) and Requests for Additional Information

08/08 - A

Phase 2 - SER with Open Items

07/09 - A

Phase 3 - Advisory Committee on Reactor Safeguards (ACRS) Review of SER with no Open Items

11/09 - A

Phase 4 - Advanced SER with no Open Items

09/16 - A

Phase 5 - ACRS Review of SER with no Open Items

11/16 - A

Phase 6 - Final SER Issued

01/12/17 - A
Environmental Review

Draft Supplemental Environmental Impact Statement (SEIS) issued

12/08 - A

Final SEIS issued

02/10 - A
Hearing

Commission hold mandatory hearing

03/23/17 - A
License

Commission decision on issuance of COL application

05/31/17 - A

Safety Evaluations
This section lists the Safety Evaluations that the NRC has issued in connection with its review of the COL application that Dominion submitted for North Anna Unit 3.

Early Site Permit
See Issued Early Site Permit - North Anna Site.

Final Supplemental Environmental Impact Statement
See NUREG-1917, "Supplemental Environmental Impact Statement for the Combined License (COL) for North Anna Power Station Unit 3."

Combined Licenses
This provides the COL that the NRC issued on June 2, 2017 in connection with its review of the COL application for North Anna, Unit 3.

Related Application Information

Contacts
Contacts for the North Anna COL Application
Safety Project Manager
James Shea
Environmental Project Manager
Tamsen Dozier
Contact a Public Affairs Officer

Page Last Reviewed/Updated Monday, September 25, 2017
Home
About Us
Popular Documents
Stay Connected