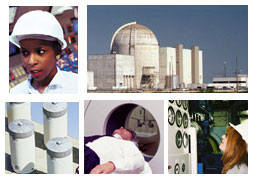 Opportunities
The NRC is consistently ranked as one of the "Best Places to Work in the Federal Government"® based on data from the Office of Personnel Management, Federal Employee Viewpoint Survey. Survey results score us as a top agency in all six measured indices - Work/Life Balance, Effective Leadership, Employee Skills/Mission Match, Pay, Strategic Management, and Teamwork.
The NRC has both entry-level positions and positions for employees with experience in the workforce in their field. We also hire Senior Executives, Senior Level Staff, and Administrative Judges (legal and technical). You can contact us about SES/SLS Positions. In addition, NRC periodically offers a Senior Executive Service (SES) Candidate Development Program that prepares individuals who have demonstrated exceptional managerial potential for leadership positions at the NRC. Participants in the program will engage in developmental assignments and formal training activities to enhance their executive competencies and to increase their awareness of public policy, programs, and issues. For more information about the SES, see the Guide to SES Qualifications Handbook published by the Office of Personnel Management.
The NRC typically focuses recruitment efforts on engineers, scientists and security professionals. As needs arise within the workforce, vacancy announcements will be posted accordingly. To view a list of current NRC vacancies, please visit USAJoBs.

Page Last Reviewed/Updated Wednesday, February 21, 2018
Home
About Us
Popular Documents