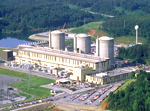 Subscribe to page updates
Plant Walkdowns of Seismic and Flooding Protection Features (ARCHIVED)
Note: This is an archived web page. For the most up-to-date information, see the new Post-Fukushima Safety Enhancements page.
In light of the effects from the extreme earthquake and tsunami of March 11, 2011, on the nuclear power plants at Fukushima, the NRC concluded U.S. nuclear power plants needed to reaffirm their existing ability to resist quakes and flooding.  On March 12, 2012, the NRC asked U.S. nuclear power plants to perform a detailed inspection, or "walkdown," of their currently installed seismic and flooding protection features. The plants had to ensure the features met current requirements, and also identify, correct, and report any degraded conditions.  The plants completed their walkdowns by November 2012; NRC inspectors have done follow-up inspections and the agency has issued plant-specific assessments of the licensee's walkdown reports.
Related Documents:
Process Overview – Seismic Walkdowns
Seismic Walkdowns
Process Overview - Flooding Walkdowns
Flooding Walkdowns
For plant-specific documents, visit our Plant-Specific Japan Lessons-Learned Activities page.
Page Last Reviewed/Updated Friday, January 04, 2019
Home
About Us
Popular Documents
Stay Connected