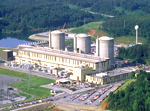 Hardened Vents and Filtration
(for Boiling Water Reactors with Mark I and Mark II containment designs) (ARCHIVED)
Note: This is an archived web page. For the most up-to-date information, see the new Post-Fukushima Safety Enhancements page.
The Fukushima accident disabled the plants' ability to cool their reactor cores, causing heat and pressure to build within the concrete containment buildings that surround the reactors. This buildup eventually damaged the buildings and made it easier for radioactive material to reach the environment. The NRC issued an Order on March 12, 2012, requiring all U.S. nuclear power plants with the Fukushima-style containment design to install a reliable, hardened vent that can remove heat and pressure before potential damage to a reactor core occurs. This not only helps preserve the integrity of the containment building, but can also help delay reactor core damage or melting.  After issuing the order, additional NRC evaluations examined the benefits of venting after reactor core damage occurs.  In June 2013, the NRC modified the Order to ensure those vents will remain functional in the conditions following reactor core damage.  The NRC considered revising its regulations through the rulemaking process to include strategies for filtering or otherwise confining radioactive material that gets released as a reactor core is damaged. In August 2015, the Commission directed the staff not to proceed further with the rulemaking.
Related Documents:
For plant-specific documents, visit our Plant-Specific Japan Lessons-Learned Activities page.
Page Last Reviewed/Updated Friday, January 04, 2019
Home
About Us
Popular Documents
Stay Connected