Flooding Sources and Protection
| | |
| --- | --- |
| On this page | |
Potential Flooding Sources
Storm Surge: An increase in water levels greater than that normally associated with tides.  Typically associated with a hurricane, storm surge occurs when the storm's winds push ocean water onshore. High tides during a hurricane's landfall can enhance storm surge effects
Dam Failure: The failure of an upstream dam, releasing the reservoir contents.
Heavy Rainfall: An unusually high precipitation event from a storm over a particular drainage area. Can impact the site directly or through the flooding of a nearby river.
Tsunami: The sudden displacement of a body of water (such as from an undersea earthquake) that generates an unusually large amplitude wave that becomes even larger when reaching land.
Seiche: A rise in water levels created by wind-action or similar weather effects acting on an enclosed or semi-enclosed body.  The water level rises when the water surface oscillates, or sloshes, in response to wind.
Ice Dam: Naturally-occurring dams appearing on rivers and streams adjacent to a site can cause flooding in two ways:  (1) a collapsing upstream ice dam can cause floodwaters at a site; or (2) a downstream ice dam can permit surface water to collect and back up onto the site.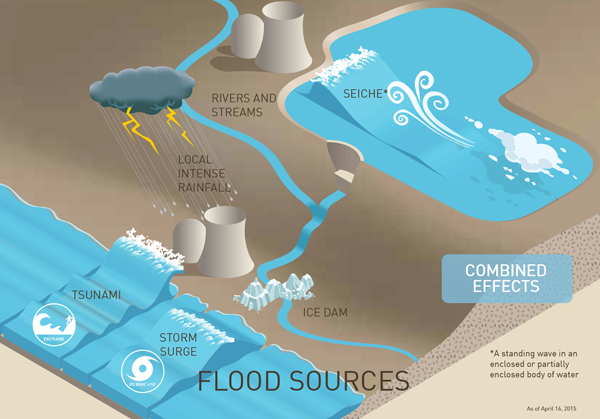 Plant Protection Options
Sandbags and/or Inflatable berms: Temporary watertight barriers that would be installed in advance of a flood, designed to keep the site dry.
Pumps: Both temporary and permanent pumps can alleviate the effects of flooding by removing water from the site.
Site Drainage: A site's design can reduce or even prevent flooding by directing floodwaters away from vital power plant areas. Drainage systems can be either man-made (drains) or natural (grading).
Permanent Flood Walls: Man-made structures primarily designed to prevent floodwaters from entering a power plant site. These walls, built from engineered and / or natural materials, can also reduce flood effects associated with erosion, wave action, and debris flow.
Plant Elevation: Permanently increasing the elevation of a power plant's site during construction helps to ensure potential flooding sources are less likely to affect the site.
Watertight Doors: Specially-designed doors, similar to those found in submarines, to keep floodwaters away from vital reactor systems and equipment, such as emergency diesel generators.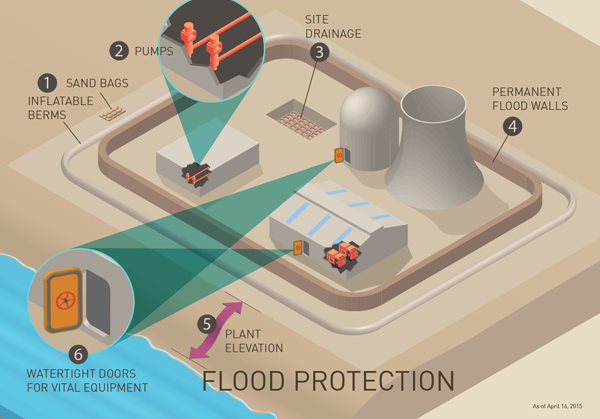 Page Last Reviewed/Updated Tuesday, April 28, 2015
Home
About Us
Popular Documents
Stay Connected