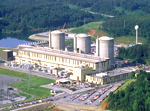 Approved Power Uprate Application Information For Indian Point 3
The following table refers to NRC-approved power uprate applications. The table shows the ADAMS accession number for (1) each plant's power uprate application, (2) any supplement to the application, and (3) the license amendment approving the application and allowing the licensee to increase power. These documents illustrate the information that the NRC staff requires in order to complete a power uprate review.
NRC encourages licensees to review the documents listed in the table before preparing a power uprate application. Addressing the information contained in these documents below may improve the quality of the application, thereby reducing the number of RAIs, and expedite the staff's review.
On this page:
Indian Point Unit No. 3
License No. DPR-64 (Docket No. 50-286)
This page includes links to files in non-HTML format. See Plugins, Viewers, and Other Tools for more information.
Application Information
Date
Description
Adams
Accession No.
06/03/2004
Proposed Changes to Technical Specifications:
Stretch Power Uprate (4.85%) and Adoption of TSTF-339
ML041620616
06/03/2004
WCAP-16212.NP NSSS and BOP Licensing Report Rev. 0
ML041630103

Supplement Information
Date
Description
Adams
Accession No.
11/18/2004
Supporting Information for License Amendment Request Regarding Indian Point 3 Stretch Power Uprate (TAC MC 3552)
ML043290367
12/15/2004
Reply to RAI Regarding Indian Point 3 Stretch Power Uprate dated November 5, 2004 (TAC MC 3552)
ML043570365
02/03/2005
Supporting Information for License Amendment Request Regarding Indian Point Unit 3 Stretch Power Uprate (TAC MC 3552)
ML050380498
02/11/2005
Reply to RAI Regarding Indian Point 3 License Amendment Requests for Stretch Power Uprate (TAC MC3552) and Alternate Source Term (TAC MC3551)
ML050550202

Amendment Information
Date
Description
Adams
Accession No.
03/24/2005
Amendment No. 225 - Issuance of Amendment Re: 4.85 Percent Stretch Power Uprate and Relocation of Cycle-specific Parameters (TAC No. MC3552)
ML050870383

Page Last Reviewed/Updated Tuesday, May 02, 2017
Home
About Us
Popular Documents
Stay Connected