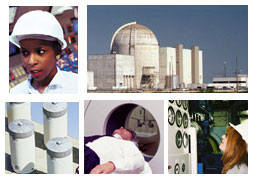 Outreach and Compliance Coordination Program
Some of the links on this page are to non-NRC servers and websites and are provided solely as a reference for the convenience of users. NRC cannot guarantee the authenticity of documents or the validity of information obtained at these non-NRC websites. See our Site Disclaimer for more information.
At the U.S. Nuclear Regulatory Commission (NRC), the Outreach and Compliance Coordination Program (OCCP) leads the agency's efforts to ensure fair and equitable treatment in NRC conducted and Federal financially assisted programs and activities.
OCCP provides oversight, outreach, compliance coordination; technical assistance; civil rights training; educational information and materials; monitors program activities; conducts compliance reviews; processes and investigate complaints; takes enforcement actions in response to violations; and submits reports on the agency's oversight efforts and compliance status to the applicable White House offices, Federal oversight of agencies, and NRC officials. In addition, the OCCP provides prospective applicants/recipients with guidance and direction, as illustrated by the "Civil Rights Compliance Requirements Imposed as a Condition of Award of NRC Federal Financial Assistance" provided in Section 6 of each of the agency's Federal Funding Opportunity Announcements.
For more information, please see the following program-related pages: Compliance Programs.
The Minority Serving Institutions Program (MSIP) funds minority serving programs, activities, projects, symposiums and training for the exchange and transfer of knowledge and skills relevant to nuclear safety, security, environmental protection, or any other fields the Commission deems critical to its mission. MSIP provides assistance for minority serving programs and activities to include, but not limited to mentoring, leadership development, training, instruction, developmental learning, research and development, program evaluation, and technical assistance. MSIP also provides assistance to include direct institutional subsidies, facilities and equipment acquisition, internships, fellowships, scholarships, and tuition and housing assistance.
For more information, please see the following program-related pages: Minority Serving Institutions Programs.

Further information is available through the following agency points-of-contact.
U.S. Nuclear Regulatory Commission
Office of Small Business and Civil Rights
Outreach and Compliance Coordination Program
Mailstop O-3H8
Rockville, Maryland 20895
U.S. Department of Justice
Civil Rights Division
Coordination and Review Section-NEB
950 Pennsylvania Avenue, NW
Washington, DC 20530
Email:
Telephone:
TDD:
OCCPrograms.Resource@nrc.gov
(301) 415-7380
(301) 415-5244
Telephone:
TDD:
(888) 848-5306
(202) 307-2678

Page Last Reviewed/Updated Wednesday, November 14, 2018
Home
About Us
Popular Documents
Stay Connected