National Source Tracking System: 2012 Blog Archives
Blog Archives: | 2020 | 2019 | 2018 | 2017 | 2016 | 2015 | 2014 | 2013 | 2012 | 2011 | 2010 | 2009 |
The National Source Tracking System Blog launched in August of 2009.
On this page:
Thursday, December 20, 2012
Annual Inventory Reconciliation
It's that time of the year again, to reconcile source inventories in the National Source Tracking System! You can reconcile your source inventory in the NSTS as early as January 1, 2013. The reconciliation must be completed by January 31, 2013. AIR packages will be mailed out for each license in NSTS with an "active" source in the NSTS inventory. An "active" source is a source that is at or above Category 2 thresholds.
Inventories and instructions will be mailed out in large white envelopes at the end of December and the first week of January. If you do not receive an inventory package by January 10th, please contact the NSTS Help Desk to request one at (1-877-671-6787) or email at NSTSHelp@nrc.gov.
What can you do now to prepare? Log into the NSTS and review your current inventory. Ensure that all of the information is correct. If there are any issues, contact the NSTS Help Desk to make the correction now. This will ensure a timely completion of AIR!
Annual Inventory Reconciliation Dates and Deadlines: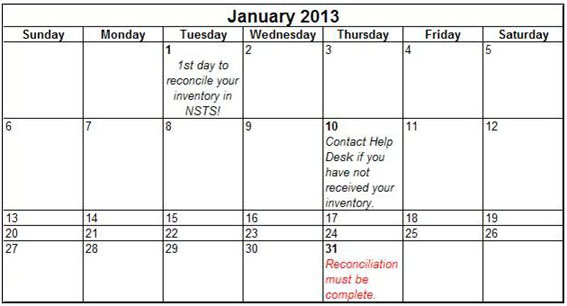 Wednesday, November 14, 2012
Outreach to Large Licensees
Are you an NSTS licensee that possesses a large number of sources and performs a high number of transactions each year? If so, you will likely get a call from the NSTS team within the next couple of weeks. We are in the process of reaching out to large licensees to give additional attention and assistance to resolve any inventory issues before the big rush with the annual inventory reconciliation (AIR). Please let us know if you have any questions or if we can assist you in any way to make the AIR run more smoothly for you.
As always, if you have any questions or concerns, please contact the NSTS Help Desk at 1-877-671-6787 or email NSTS.help@nrc.gov.


Thursday, November 08, 2012
AIR is almost here!
Just a friendly reminder that the annual inventory reconciliation (AIR) is almost here. If you have online access to NSTS and have not checked to confirm your PIN is still active, please do so at your earliest convenience.
Fast Five to Prepare for AIR
Get credentialed (if you have not already) to confirm your inventory for AIR 2013 online
Check login pin
Check pending transfers and receipts (see NSTS alerts)
Check your contact information in NSTS
Review inventory
If you have difficulty logging in or have any questions or concerns, please contact the NSTS Help Desk at 1-877-671-6787 or email NSTS.help@nrc.gov.


Thursday, July 26, 2012
Maintenance Release 2.2 Deployed
The maintenance release of NSTS Version 2.2 has been deployed! Upon your next login to NSTS, you will notice several enhancements to the system, a few of which I will highlight here. First off, we've added the "Inventory Report" feature for better printing and exporting of your inventory. Second, we've consolidated the unrecorded transfer feature into only one step. And finally, in the "Receive Sources" screen, we've distinguished between pending transfers (these are unrecorded transfers that are entered by the recipient that are waiting for the sending licensee to verify the transfer) and shipped transfers. Now when you go to receive shipments of your sources, the screen will default to "All but Pending" so you'll know which shipments still require action on your part.
If you have any questions, comments, or suggestions for additional features in NSTS, please contact the Help Desk at NSTS.help@nrc.gov or 1-877-671-6787.


Wednesday, July 11, 2012
Important NSTS Numbers and Links
You are probably already familiar with the Help Desk number
(1-877-671-6787) but there is a new fax number for the NSTS Help Desk (1-888-821-2534). To help you remember, we will be sending out an outreach packet to all licensees in NSTS that will include a magnet with helpful NSTS numbers including the new fax number, and posters highlighting the benefits of online reporting and how to get credentialed.
Also, you may have noticed that the NSTS website has changed to a new link. The reason for this change was to add some pages related to the Integrated Source Management Portfolio (ISMP), of which NSTS is a part of. The ISMP is a set of information technology tools that will support the Radioactive Material Security Program and related radioactive materials licensing and tracking activities of the NRC. The key systems that will comprise the ISMP include the NSTS, the Web-Based Licensing System, and the License Verification System.
Most of you probably access NSTS by going to the NSTS page on the NRC website. However, in case the NRC website is ever down, NSTS will remain unaffected and you can use this link to get access. The NSTS login link is https://nsts.nrc-gateway.gov/nsts/welcome.do.
Save these numbers and bookmark these links so you'll always have them at your fingertips!


Wednesday, June 6, 2012
Check out NSTS on YouTube!
Ever wondered about source security and how reporting sources to the NSTS fits into the big security picture? Get your questions answered by checking out the three-minute video on source security, featured on the NRC YouTube Channel!


Friday, June 1, 2012
Online Survey Results
In February and March, we conducted an online survey to capture perceptions of NSTS among licensees and regulators. The information obtained through this quantitative survey measured user satisfaction of NSTS, user insights of the perceived benefits of online reporting and the online annual inventory reconciliation, and non-user barriers for not using the online system. The survey was emailed out to a total of 2,661 individuals and a total of 879 responses were received, providing a response rate of 33%. Thank you to those who participated. Some highlights from the survey results include:
Overall satisfaction with NSTS was high providing a 4.06 rating out of a 5 point scale.
Approximately half of the respondents indicated they report to NSTS primarily online with the highest online reporters being panoramic irradiators and industrial radiographers.
Industrial radiographers and manufacturers/distributors use NSTS to report transactions of nationally tracked sources more frequently than other licensees.
Approximately 72% of the respondents perceived online reporting to be faster than other reporting methods. Online reporting is perceived to be faster, easier, more accurate, more secure and better accountability and inventory tracking than other reporting methods.
The primary reasons for not using the online NSTS include infrequent reporting, faxing works fine, credentialing process seems difficult or time-consuming and respondents started the credentialing process but experienced problems so they abandoned the system.
We have come a long way in improving NSTS. The number of credentialed users and number of licensees reporting transactions online is increasing. We have completed three Annual Inventory Reconciliations, with the licensee compliance rate improving each year by the end of January. We've rolled out several maintenance releases, NSTS version 2, automated certain processes (Form 748, alerts), and are working to continue to make improvements on a daily basis.


Monday, May 1, 2012
What the Help Desk Can Do For You
Have you ever forgotten your NSTS online password? Can't get NSTS to work on your computer? Still waiting for your credentialing package? Not sure what an NSTS alert or email means? Do you have a suggestion on how to make NSTS better? Is something in NSTS not working correctly? Not sure how to report your transaction to NSTS? Confused as to which Form 748 to use?
The NSTS Help Desk can answer all of the above questions and more! The Help Desk is available to answer any NSTS-related questions either by phone (1-877-671-6787) or by email (NSTSHelp@nrc.gov) from Monday to Friday 8:00 am to 8:00 pm ET. Every inquiry is logged and tracked for future reference. Our most frequently asked questions are located under the NSTS FAQs. If you can't find answers to your NSTS questions there, call the Help Desk for assistance.


Friday, February 17, 2012
Take the NSTS Satisfaction and Perception Survey
In a few days, you will likely receive an email invitation to participate in a brief online survey to provide us feedback on your satisfaction and perceptions of NSTS. The email will be from our marketing contractor, Eureka Facts. The email will be from nstssurvey@eurekafacts.com and will have the subject line: Take the NSTS Satisfaction and Perception Survey. The results from this survey will be used to help us improve NSTS. The survey will only take approximately 10 minutes to complete and will be available for approximately 3 weeks. Please help us out and take a few moments to complete this survey when you receive the email.


Friday, January 27, 2012
Annual Inventory Reconciliation Reminder
There are only a few more days left in January, which means the deadline for completing your Annual Inventory Reconciliation is quickly approaching. Don't forget that the deadline for completion is January 31, 2012.
If you have online access, log in now and complete your reconciliation.
If you don't have online access and you didn't receive your reconciliation report, contact the Help Desk to request it immediately at 1-877-671-6787 or by email NSTS.Help@nrc.gov. If you've started the process but haven't sent in your Confirmation Form, fax it to the Help Desk at 240-403-4391 by January 31st so we can mark you as complete.


Page Last Reviewed/Updated Monday, August 14, 2017
Home
About Us
Popular Documents
Stay Connected