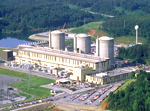 Petition Related Documents
Any member of the public may raise potential health and safety issues in a petition to the NRC to take specific enforcement action regarding a licensed, operating facility. The following pages lists, in chronological order, document petitions submitted to the NRC concerning the Davis-Besse Reactor Vessel Head Degradation.
For information on the petition process, see Petition the NRC to Take an Enforcement Action.
Page Last Reviewed/Updated Thursday, May 25, 2017
Home
About Us
Popular Documents
Stay Connected