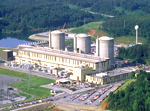 Public Meetings for 2018
This page lists, in chronological order, the notices, slides and summaries documenting the public meetings held concerning RPV Upper Head Issues for 2018. To learn about future meetings, see our public meeting schedule page.
This page includes links to files in non-HTML format. See Plugins, Viewers, and Other Tools for more information.
Date
Description

01/15/2019
01/16/2019
01/17/2019

Category 2 Meeting: "Annual NRC/Industry Nondestructive Examination (NDE) Technical Information Exchange Public Meeting" – The purpose of meeting is to exchange technical information on the industry's ongoing NDE programs, in particular as related to the current and emerging NDE issues, research, and lessons learned from the recent operating experience.

Page Last Reviewed/Updated Wednesday, October 16, 2019
Home
About Us
Popular Documents