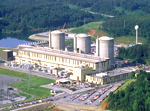 Approved Power Uprate Application Information For Palo Verde 1 & 3 (Combined Application)
The following table refers to NRC-approved power uprate applications. The table shows the ADAMS accession number for (1) each plant's power uprate application, (2) any supplement to the application, and (3) the license amendment approving the application and allowing the licensee to increase power. These documents illustrate the information that the NRC staff requires in order to complete a power uprate review.
NRC encourages licensees to review the documents listed in the table before preparing a power uprate application. Addressing the information contained in these documents below may improve the quality of the application, thereby reducing the number of RAIs, and expedite the staff's review.
On this page:
Palo Verde Nuclear Generating Station Units 1 and 3
Facility Operating Licenses NPF-41, NPF-51 and NPF-74
(Docket Nos. STN 50-528 and 50-530)
This page includes links to files in non-HTML format. See Plugins, Viewers, and Other Tools for more information.
Application Information
Date
Description
Adams
Accession No.
07/09/2004
Request for a License Amendment to Support Replacement of Steam Generators and Uprated Power Operations In Units 1 and 3, and Associated Administrative Changes for Unit 2
ML042010289

Supplement Information
Date
Description
Adams
Accession No.
06/02/2005
Supplement to a Request for a License Amendment to Support Replacement of Steam Generators and Uprated Power Operations in Units I and 3 and Associated Administrative Changes for Unit 2
ML051610217
06/03/2005
Supplement to Request for a License Amendment to Support Replacement of Steam Generators and Uprated Power Operations in Units I and 3 and Associated Administrative Changes for Unit 2
ML051660179
06/03/2005
Response to Request for Additional Information Regarding Steam Generator Replacement and Power Uprate License Amendment Request
ML051660184
06/17/2005
Supplement to Request for a License Amendment to Support Replacement of Steam Generators and Uprated Power Operations Concerning Reactor Drain Tank Room Hydrogen Concentration
ML051790198
07/09/2005
Response to Request for Additional Information Regarding Steam Generator Replacement and Power Uprate - Instrumentation and Controls Section
ML052080046
07/09/2005
Request for a License Amendment to Modify Reactor Protective and Engineered Safety Features Actuation Systems Instrumentation Technical Specification Tables
ML052080204
07/19/2005
Response to Request for Additional Information Regarding Steam Generator Replacement and Power Uprate - Electrical Engineering Section
ML052070709
07/19/2005
Control Room Habitability Testing
ML052070713
08/03/2005
Supplement to Amendment Requests Associated with Power Uprate - New Retyped Technical Specification Page
ML052240285
09/29/2005
Request to Supercede a License Amendment Request Associated With Steam Generator Replacement and Power Uprate
ML052850349
10/21/2005
Proposed License Condition to Implement Changes Associated with 10 CFR 50.63, Station Blackout
ML053040130
11/01/2005
Revised Pages for License Amendment Request
ML053130264

Amendment Information
Date
Description
Adams
Accession No.
11/16/2005
Issuance of AMDS157/157/157 Re: Replacement of Steam Generators and Uprated Power Operations and Associated Administrative Changes (Tacs. MC3777, MC378 and MC3779)
ML053130286

Page Last Reviewed/Updated Tuesday, May 02, 2017
Home
About Us
Popular Documents
Stay Connected