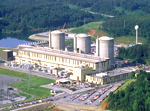 Approved Power Uprate Application Information For Calvert Cliffs Power Plant, Unit No. 1 and No. 2
The following table refers to NRC-approved power uprate applications. The table shows the ADAMS accession number for (1) each plant's power uprate application, (2) any supplement to the application, and (3) the license amendment approving the application and allowing the licensee to increase power. These documents illustrate the information that the NRC staff requires in order to complete a power uprate review.
NRC encourages licensees to review the documents listed in the table before preparing a power uprate application. Addressing the information contained in these documents below may improve the quality of the application, thereby reducing the number of RAIs, and expedite the staff's review.
On this page:
Calvert Cliffs Power Plant, Unit No. 1 and No. 2
Docket Nos. 50-317 & 50-318
This page includes links to files in non-HTML format. See Plugins, Viewers, and Other Tools for more information.
Application Information
Date
Description
Adams
Accession No.
08/29/2008
Calvert Cliffs Nuclear Power Plant Unit Nos. I & 2; Docket Nos. 50-317 & 50-318 License Amendment Request: Appendix K Measurement Uncertainty Recapture - Power Uprate Request
ML082470623

Supplement Information
Date
Description
Adams
Accession No.
12/03/2008
Response to Request for Additional Information - License Amendment for Measurement Uncertainty Recapture Power Uprate- Calvert Cliffs Nuclear Power Plant. Unit Nos. 1 and 2
ML083430009
12/29/2008
Response to Request for Additional Information - License Amendment for Measurement Uncertainty Recapture Power Uprate
ML083650053
12/29/2008
Response to Request for Additional Information - Measurement Uncertainty Recapture Power Uprate Power Plant. Unit Nos. 1 and 2
ML090020382
02/17/2009
Response to Request for Additional Information - Measurement Uncertainty Recapture Power Uprate Power Plant, Unit Nos. 1 and 2
ML090500398
02/18/2009
Response to Request for Additional Information - License Amendment for Measurement Uncertainty Recapture Power Uprate - Calvert Cliffs Nuclear Power Plant, Unit Nos. 1 and 2
ML090630750
03/10/2009
Additional Information - License Amendment for Measurement Uncertainty Recapture Power Uprate - Calvert Cliffs Nuclear Power Plant Unit Nos. 1 and 2
ML090700310
05/07/2009
Response to Request for Additional Information - License Amendment for Measurement Uncertainty Recapture Power Uprate - Calvert Cliffs Nuclear Power Plant. Unit Nos. 1 and 2
ML091310169
06/11/2009
Revision to License Amendment for Measurement Uncertainty Recapture Power Uprate
ML091660293

Amendment Information
Date
Description
Adams
Accession No.
07/22/2009
Calvert Cliffs Nuclear Power Plant, Unit Nos. 1 and 2 Amendment Re: Measurement Uncertainty Recapture Power Uprate (TAC Nos. MD9554 and MD9555)
ML091820366

Page Last Reviewed/Updated Tuesday, May 02, 2017
Home
About Us
Popular Documents
Stay Connected